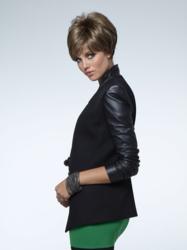 Los Angeles , CA (PRWEB) November 23, 2012
In 1996, WigSalon.com was the first web site to offer click-and-buy wigs on the internet. Joseph Aronesty, WigSalons owner, fused the business of his father with the technology of his son, Erik, who is now using his computer savvy to cure cancer with genetics. Its been a wonderful run with wigs online, and we have a lot to be thankful for. So from Black Friday until the end of Cyber Monday we are cranking up our world famous discounts on our best wig brands, and offering free shipping as well. Shop Wigsalon's Black Friday Wig Sale .
WigSalon also has exclusive images of three new Fall 2012 Noriko wigs. Noriko was made famous by creating wigs that look great right out of the box and by using fibers that outlast those of other brands. Available in a beautiful array of air-brushed and hybrant colors the new Noriko wig styles are some of the most stunning ready-to-wear wigs the world has ever seen: Georgia, Ivy , and Hailey are monofilament and hand-tied, which means they will particularly comfortable for women who have lost hair or are about to undergo chemotherapy. The hand-tied monofilament caps also allow for natural movement, and multiple styling options.
The new Georgia wig by Noriko is a classic shoulder-length page style with razor-cut layering and a comfortable hand-tied monofilament cap. Ivy is a flirty, short and free spirited wig with salon styled razor cutting.
The Black Friday wig sale is not limited to Noriko wigs, which already has a large built in discount. Wigs by Raquel Welch, Eva Gabor, Jon Renau, Rene of Paris, Lux Hair, and Envy Wigs will all have their prices slashed for this sale. The coupon code for this special offer is VIP.
Customers who prefer to shop in person can simply mention the VIP coupon code in WigSalons new Los Angeles Wig Outlet Shop to receive the Back Friday Sale prices. The sale begins at 8AM on Friday, November 23rd, and ends Monday the 26th at midnight.
Wigsalon.com

10867 W. Pico Blvd

Los Angeles, CA 90064

1-800-262-8437

http://www.wigsalon.com