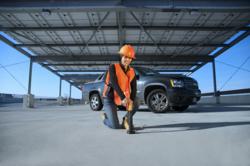 (PRWEB) November 02, 2012
James Instruments Inc. the worldwide leading manufacturer of non-destructive test equipment for concrete and other construction materials and coarse grained materials, has certified the Windsor Probe Test System for European safety. Although the system has been used safely and effectively since the 1960s new regulations have caused minor revisions. These revisions have had no effect on the accuracy and reliability of the test system.
The Windsor HP Probe system rapidly and accurately determines the concrete compressive strength of a structure by driving a probe into the concrete with a known amount of force. Improved and enhanced over thirty years, this modern system is capable of measuring concrete with a maximum compressive strength of 17,000 PSI (110MPA). It has been ruggedized for use in the construction environment, yet refined to provide the user with a simpler system to operate. An electronic measuring unit has been added to help ensure proper test results which can be recorded for later review or uploading to a personal computer.
The Windsor Probe System features: