Ultimate Spelling Software Supports the Teaching of Spelling Despite the Availability of Automatic Spelling and Grammar Checkers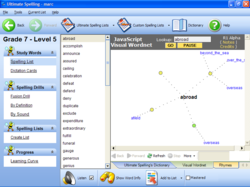 New York City, NY (PRWEB) November 13, 2012
Today, Ultimate Spelling software emphasized the urgency of teaching children to spell correctly, despite the wide use of automatic spelling and grammar checkers. A study published by the International Dyslexia Association emphasized how automaticity, the ability to instantly identify and know the meaning of a word, is crucial for smooth and efficient reading comprehension, and a knowledge of spelling is a required component of this skill.
Apart from the importance of automaticity, the study also highlighted the significance of fluency, or how effortlessly and correctly a sentence is read, which is also key to improved reading comprehension and language production.
The study cautions that children and adults must not rely on outside spellcheckers for our orthography, but instead internalize the rules of spelling. If we cannot spell, a series of linguistic issues emerges: our comprehension is inhibited, our reading pace slowed down, and even our speech can be affected.
Marc Slater, director of Ultimate Spelling software commented on this, saying, No matter how ever-present spell checking features are in modern technology, we cannot rely on them for our written language production. Oral and written language are interrelated. If our mastery of the written word is poor or flawed, then this has great implications on our reading fluency and comprehension, as well as the ability to produce correct, high-quality written content.
If we rely on spell checkers, we lose sight of how important spelling awareness is for overall language comprehension and use. Spelling is a vital aspect of language for both production and comprehension, whether oral or written. Any efforts made to improve spelling will therefore naturally enhance our overall linguistic performance.
Slater concluded, Learning to spell is no longer necessarily a slow and painstaking process. The use of various spelling software systems and techniques can greatly facilitate the process of spelling acquisition. Spelling and grammar checkers are not there to do the work for us; while useful, they exist for reference only. Dont let your kids get away with relying on these tools. It only contributes to poor spelling, which will have a negative impact on their future prospects. Give them the skill indeed, the gift of spelling instead.
For more information about how technology and spelling software can improve spelling performance for you and your family, please visit the official website at http://www.ultimatespelling.com.
About Ultimate Spelling
Ultimate Spelling provides a modern and easy to use spelling software that has been designed with one goal in mind making children WANT to learn.
It is a fast and easy way to master even the most complicated spelling, without the need to write long lists or complete boring tests.
In fact, Ultimate Spelling provides more than just spelling help. It is a complete educational resource that boosts all level of a childs literacy.
Containing a personal computer tutor, Ultimate Spelling is the most realistic step-by-step guide to flawless spelling ability.