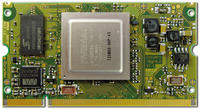 Horw, Switzerland (PRWEB) November 08, 2012
Toradex has announced that the binary versions of its Windows CE Libraries for their Colibri PXAxxx & T20 Computer on Module families are now available free of charge.

The Windows CE Libraries include support for ADC, CAN, Cloud, DMA, I2C, Image Capture, ISR, PWM, SPI, System Information, Watchdog and more. Each library is accompanied by API documentation and demonstration code.
More information on the libraries can be found at http://developer.toradex.com/knowledge-base/windows-ce-libraries-and-code-samples.
More information about the Colibri computer on module family from Toradex can be accessed at http://www.toradex.com/Products/Colibri-Computer-On-Module
About Toradex
Founded in Switzerland, today the Toradex network stretches across the world. Its direct sales model and local service approach puts Toradex in regular contact with more than 3,000 customers around the globe. Toradex supplies embedded computer modules for demanding applications and offers premium support service to help its customers rapidly bring product to market. Toradexs strategic vision and long term orientation makes it the company of choice for ambitious and creative people.
Toradex products are deployed within a diverse range of markets and industries. Typical industries include: automotive, medical devices, laboratory equipment, point of sales, gaming machines, navigation systems, musical instruments, machine control, virtual reality simulation, digital signage, traffic control systems, building automation, security systems, robotics, process control and auto pilots.
Swiss Roots. Global Reach. Switzerland United States India Vietnam - China
Meet our engineers at