The New Standard for Mission Critical Network Time Synchronization – Official Meinberg LANTIME M-Series Product Launch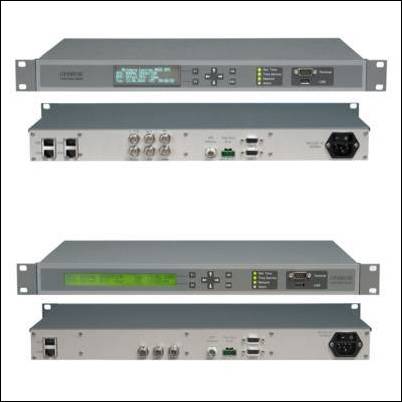 Junction City, GA (PRWEB) September 7, 2006
Meinberg Radio Clocks, a manufacturer of time and frequency synchronization equipment and network time server solutions, announced today the official market launch of a new NTP time server product line: The LANTIME M-Series.
The two new models LANTIME M300 and M600 are running a new feature-rich, ultra-flexible and highly secure new firmware generation on a completely redesigned hardware. The predecessor, the classic LANTIME 1U version with its well-known ruggedized industrial chassis, has been installed by customers around the globe and several thousand units have been sold since the market introduction more than 5 years ago.
The LANTIME M300/GPS is an entry-level solution for applications that require a reliable, stable and accurate source of network time. It offers 2 Ethernet Ports (10/100baseT) and comes with an integrated Meinberg GPS receiver with internal oscillator. Using the LCD (40×2 characters with backlight) and the 8 button front panel controls, it offers a convenient way of setting up the basic network parameters like IP address, gateway and netmask. Unlike most competitors, the LCD menu allows configuring a large number of extra parameters and provides detailed status information screens like GPS status (satellites in view/receivable) or NTP related information (current stratum, offset and source of synchronization). The new 3 bi-color LEDs provide the current health status of the unit at a glance by separately showing the status of the network interfaces, the time reference (e.g. the integrated GPS receiver) and the network time service (NTP). An Alarm LED visually signals whenever the unit needs further attention and extends the already unmatched LANTIME notification system, which provides means to send out notifications via email (SMTP), SNMP traps, Windows Popup Messages and syslog. Using a Meinberg VP100 large wall mount display, all notifications can be presented highly visible to a greater audience, like the operators team in a control room. Even audible alarms are possible. For industrial applications or laboratory units, the M300 provides highly accurate 10 MHz, 1PPS and 1PPM outputs via BNC connectors.
The LANTIME M600/GPS is the high-end version of the M300, equipped with a high-quality front display (VFD, 32×4 characters), 4 LAN ports and additional outputs like IRIG (modulated and DCLS) and a synthesizer generated frequency. Due to its flexible architecture, the M600 will be the basis for individually customized 1U LANTIME versions. The growing list of options already includes several oscillator options, additional outputs and a PTP module, which turns the M600 into a full featured GPS-synchronized IEEE 1588/PTP Grandmaster Clock and NTP Stratum 1 Time Server.
Because both models run the same LANTIME V5 firmware, which is based on the already widely deployed fourth generation (V4), they share the same features in regards to NTP and they provide the same interfaces for configuration and management: a Web based interface that can be accessed with any HTTP and/or HTTPS capable web browser (no Java support required), a text mode user interface that can run in a SSH or Telnet session (or via a terminal connection using the new front panel RS232 console port) and a SNMP interface that can be used to get/set configuration parameters using SNMP v1, v2c or v3 compliant management systems or command line tools. A user rights management allows to set up user accounts with different access rights (shell access, read-write, read-only).
The newly designed CPU board now provides more than 5 times the performance of a standard LANTIME by employing a high performance i386 compatible CPU running at 500 MHz and 256 MB RAM. The firmware as well as all configuration data is stored on a compact flash disk and there are no cooling fans necessary. This no-moving-parts design greatly improves reliability and ensures a maintenance-free 24/7 operation for years.
Meinberg LANTIME NTP Time Servers run the reference implementation of NTP V4 from http://www.ntp.org, which is maintained by a highly skilled team of software engineers and which runs on millions of servers and workstations around the world. Meinberg offers free client software for the most popular operating systems including Linux, Windows, Sun Solaris and others.
Detailed Information as well as datasheets can be found on the Meinberg Website (http://www.meinberg.de). Please see the products section or directly check out the corresponding product pages:
LANTIME M300/GPS (http://www.meinberg.de/english/products/lantime-m300-gps.htm)
LANTIME M600/GPS (http://www.meinberg.de/english/products/lantime-m600-gps.htm)
###