Social Media Consultant Gloria Rand is featured in Social Media Tech Tips Video Series for eHow.com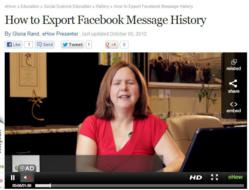 Oviedo, FL (PRWEB) October 17, 2012
Social Media Consultant Gloria Rand is pleased to announce that she recently completed a video series of Social Media Tech Tips for eHow.com. The videos address a number of questions regarding how to use Facebook, LinkedIn and Google that were submitted to eHow.coms website.
Millions of people visit eHow.com each month, so having my content published on their website is a great way to raise my profile on a national scale, and generate new leads for my SEO copywriting and social media consulting business, said Ms. Rand.
Gloria Rand had to apply for the opportunity to become a social media expert on eHow.com with the websites distributor, Demand Media, Inc. Once approved, she worked with a producer to select a series of topics that fit her expertise. Then, Ms. Rand wrote the scripts for the videos, and created screencasts of the various websites to go along with the scripts. Once the scripts and screencasts were approved, a video production crew met with Ms. Rand in person to record the Social Media Tech Tips.
Here is an excerpt from Ms. Rands eHow.com video: How to Make Review Stars Show Up On Google:
The best way to get these review stars to show up on Google is to set up accounts on local directories and review sites like Yellow Pages, CitySearch, Nextag, and Yelp. Once you create an account on these sites, ask your customers to post a review of your products or services on one or more of them. The more reviews you get, the better off youll be. A great way to make this easy for your customers is to include a link to these sites on your companys website.
Other topics in the video series include: How to View the History Manager for Facebook and How to Remove a LinkedIn Photo in Outlook.
About Gloria Rand:

Gloria Rand is an SEO copywriter and social media consultant who helps small business owners achieve online visibility, profits and success. Ms. Rand has over 20 years of writing experience, including 15 years with the award-winning PBS program, Nightly Business Report. She has made several appearances on Central Florida News 13 to discuss social media. Ms. Rand's experience as a work-at-home mom has been documented in the book, Mogul Mom How to Quit Your Job, Start Your Own Business, and Join the Work-at-Home Mom Revolution.
eHow.com is a leading online destination for practical, trusted advice and know-how. eHow.com's useful and informative content reaches an engaged and intent driven consumer who is on the site to take action in a specific area of interest, including Home, Money, Style, Health, Family and Food. The site is home to millions of resources, including how-to articles and videos, creating an indispensable environment that people rely upon to accomplish tasks, large and small, and share their experiences and expertise.