Rated M by Mario Lopez, Mundo Unico, 2(x)ist, Andrew Christian and others Preview their Mens Swimwear and Underwear Collections at the South Beach Men's Show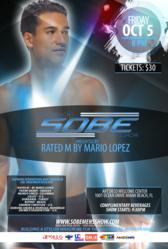 North Miami Beach, FL (PRWEB) September 11, 2012
The South Beach Mens Show will heat up the runway this year with new mens swimwear and underwear collections from Mario Lopez Rated M line, Colombian line Mundo Unico, Swedish line Frank Dandy, Brazilian line boyRio, Turkish line Doreanse, U.S. lines 2(x)ist and Andrew Christian as well as the Edmond Andre and Noirsoul Menswear collection from NBCs Fashion Star.
The SoBe Mens Show is scheduled for Friday, October 5 at the Historic Art Deco Welcome Center at 1001 Ocean Drive, Miami Beach. Complimentary cocktails and a reception sponsored by Mario Lopez' Rated M Collection will begin at 8pm for industry media, retailers and buyers. The show starts at 9:30 p.m. Media, retailers and buyers must register online at http://www.sobemensshow.com for complimentary access or to receive photos and video from the show. Consumer tickets are $ 30 and are available on the website.
About the Designers

Rated M by Mario Lopez

We're not heroes or visionaries. We're not here to change the world. We just want to make the best underwear and t-shirts ever seen in the history of mankind. Manful, masterful, magical and much more. RATED M, for manful men and their very special guests.
Mundo Unico

Mundo Unico is a top leading brand in mens underwear and has a varied selection of boxer briefs ranging from fun and exciting prints to elegant and subtle designs with exceptional fabrics and construction. The materials and fabrics along with the brands designs are as diverse as the underwear, including t-thong, Caribbean bikini, brief, urban boxer, short boxer, mid boxer, long boxer and others. All Mundo Unico underwear allow for free and easy movement during any type of activity: sports, leisure, work, casual, travel and business. All Mundo Unico products are dyed and hand-stitched in Medellin Colombia, using only the finest fabrics and supplies as well as the latest technology.
Frank Dandy

The year was 2003 and there was no alternative to men