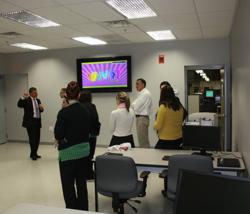 West Warwick, RI (PRWEB) October 19, 2012
QuickLabel Systems, a brand of Astro-Med, Inc. (NASDAQ: ALOT), held an official ribbon cutting ceremony to inaugurate its newly revamped QuickLabel College Lab. The new training facility will foster a learning environment where QuickLabel customers will be thoroughly educated in how to use their QuickLabel digital color label printer and labeling software. The new Lab follows a 10,000 square ft. expansion of its label factory in 2010 and underscores Astro-Meds continued commitment to manufacturing in Rhode Island and to providing long-term customer support.
As he inaugurated the new lab with a ceremonial ribbon cutting and invited QuickLabel employees and customers in to tour the new Lab for the first time, Mark Paul, Technical Support and Training Manager, said, This is Lab is an investment in our customers. Since 1994, weve hosted 319 classes and over 1,000 students have come through these doors to learn the ins and outs of our products. We look forward to training thousands more.
QuickLabel College instruction spans the course of 2 days. Any company that purchases a QuickLabel production-capacity digital color label printer such as the Kiaro!, Vivo! Touch, QLS-4100 Xe, or QLS-3000 Xe is entitled to send two employees to attend QuickLabel College free of charge. The skills learned while attending QuickLabel College include how to turn your label artwork designs into stunning printed labels, how to properly maintain your label printer for longevity and high functionality, and how to utilize the features of Custom QuickLabel