Qmadix Announces Gold Sponsorship of 2012 iQmetrix Retail Summit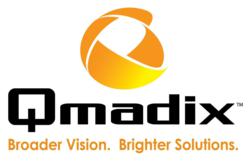 Panorama City, CA (PRWEB) October 10, 2012
Qmadix, known as a leader in tech gadgets and accessories, is proud to be the Gold Sponsor of the 2012 Retail Summit hosted by iQmetrix and welcomes all visitors to come see Qmadix at Booth #C. The iQ Summit was established in 2005 to bring together the wireless industrys top retailers, the Summit has become a cant-miss event for learning, sharing best practices, networking and just plain fun.
This year, Qmadix is anticipated to announce becoming a Select iQmetrix Partner, as well as the initiatives that are planned for 2012-2013 to foster strong relationship with the iQmetrix dealer network.
We will be launching a number of initiatives that aim to better serving the iQmetrix dealer network with simpler processes with smarter service while providing easier returns. Qmadix will be providing ramp-up perks, an improved system of stock-balancing, credit back offers, flexible payment options, and we are developing a sales training program among other incentives to initiates of the Qmadix QMI program, said Ezra Soumekh, President of Qmadix in an interview with iQmetrix.
This year will be the third year Qmadix will be sponsoring the Retail Summit, which is held this year at the AAA Five-Diamond Fairmont Resort in Scottsdale Arizona on October 14-16. Every year, in October, iQmetrix hosts a leading edge conference for its clients, which features an exciting line-up of speakers, presentations and workshops to help attendees grow their business, discuss industry trends, and take advantage of great networking opportunities. Registration opportunities are available at http://www.iqmetrix.com
About Us:
Qmadix has a proven track record in developing and implementing effective accessory programs across all major channels, including Mobile Network Operators, Dealer Agents, Distributors and National Retailers. Our focus is to help our partners become more profitable by providing innovative products and backing them with value-added programs such as education, training, vendor managed inventory (VMI), private label branding and fulfillment services to enhance the support to our customers. We have built our business from the ground up and have continued to grow and evolve in the accessory industry.
Qmadixs team is dedicated leaders with over 20 years of success in the accessory industry. Their long-standing commitment to providing quality products and innovative solutions has always been the cornerstone of the Qmadix philosophy.
Contact Us:

Qmadix

14350 Arminta Street

Panorama City, CA 91402

Phone: 818-988-4300

General: info(at)qmadix(dot)com

Media: media(at)qmadix(dot)com
Copyright