Product Launch: Geocu by TouchLay. High-tech innovation from the Austrian Vienna Region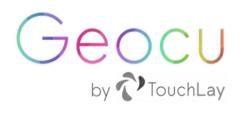 (PRWEB) November 22, 2012
Geocu is a newly created product platform by TouchLay launching 1. December 2012. This high-end high-tech piece is the innovative result of a young Austrian- Slovakian team working to seamlessly embed the latest computing into aesthetic design, thus creating a new market niche. It is the first item of the Geocu line and available in beta-form by contacting TouchLay.
Geocu can be used in an extensive variety of settings- home, hospitality, office, waiting areas, exhibitions- making it highly versatile with a wide market. Through its simple design, it blends in with its surroundings, like a piece of furniture. However, the integrated computing makes it both novel and useful in optimizing workflows, networks, controls. Software is available and can be tailored to meet the needs of the setting Geocu is placed in by its user.
We are trying to create an interactive system with components and design only seen in high-end places, and only used for presentation purposes, states product developer Milan Kazarka. The aim is really to bring next generation technology to the people and make it affordable.
TouchLay was founded in 2010 with the goal of designing more natural user interfaces. TouchLay specializes in multi-touch surface interfaces with the primary goals of making computers enjoyable for everyone.