PicturesOnGold.com Introduces a New Online Computer Feature: "Design Your Own Photo Locket," using an "Interactive Photo Locket Designer."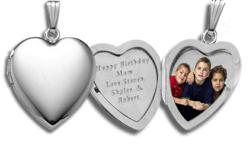 Staten Island, NY (PRWEB) November 21, 2012
Picture yourself as a fashion designer creating unique Personalized Photo Locket jewelry. Express your inner artistic talent and create a one of a kind photo locket to give as a holiday gift to family, friends, and business associates at PicturesOnGold.com using the Interactive Locket Designer.
PicturesOnGold.com takes the guesswork out of finding a place to add a photo and allows users to upload, email or even mail in the photograph and will either permanently laser the photo inside, or add a high resolution photo print. The PicturesOnGold.com graphic artists digitally enhance the photo, zoom in, and make it ft perfectly inside the locket. "It's not easy to enhance your photo, remove the background, remove unwanted people or objects and photo shops just don't do it any more. We're told by customers every day how clear and vivid the photos look once we laser it inside", Says Daniel Schifter CEO of PicturesOnGold.com.
As stated by Daniel Schifter, The Christmas, Hanukkah, and New Year Holidays are fast approaching, and our new "Interactive Locket Designer", presents an opportunity for customers to design distinctive personalized jewelry online. Families, and friends can express their love for the special people in their lives creating a cherished photo locket using photos which capture favorite moments. It is a simple process that is consumer friendly."
Customers can add a personalized engraved message, monogram, birthstone, and or choose how the outside of the customized photo locket will look by selecting from hundreds of clipart images that can be engraved. The photo laser process is 100% waterproof and scratch proof. The amazing part is the finished product ships the next business day, customized and all," said Mr. Schifter
It is an effortless process. It's known before your make the purchase exactly how your Personalized Photo Locket will look. PicturesOnGold.com prides itself on producing quality, and innovative locket jewelry designed to last.The quality of the photos is superior, the engraving is clear, and adds a special touch, said Mr. Schifter.
The Personalized Photo Lockets are featured in a variety of shapes and sizes. Customers can choose a heart, round, or oval style locket in 14K Gold, Sterling Silver, White Gold, or Platinum. Prices start at just $ 29.99 in Sterling Silver and under $ 200 in 14k Gold. Mommy Bloggers throughout the USA and Canada are writing rave reviews on the Personalized Photo Lockets.
Dont miss this opportunity to delight the significant people in your life for the upcoming holidays.
About PicturesOnGold.com:

PicturesOnGold.com has been manufacturing jewelry since 1998 for the jewelry industry throughout the world. 95% of the work is done directly in their factory. PicturesonGold.com is the only company in the world to laser-print full color, sepia, or black and white photos onto jewelry. A sentimental photo can now be downloaded and permanently imprinted on a 14k gold locket or sterling silver lockets. Initials and a message can also be engraved to further develop the personalized jewelry. The website was created in 2005 and has some unique products like Photo Engraved Jewelry, Lockets, Medical Id Jewelry, Custom Sports Jewelry, Religious Medals, Awareness Ribbons, Childhood Cancer Awareness Jewelry, Personalized Name Bands, Monogram Jewelry, and many other choices.

For additional information, log onto PicturesOnGold.