Partnership Delivers Revolutionary Broadband Technology to Intesa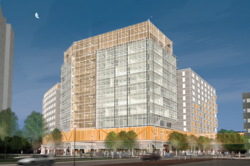 Cleveland, OH (PRWEB) October 25, 2012
Intesa Holdings, LLC, a joint venture between The Coral Company and Panzica Construction, and OneCommunity announce they have signed an Agreement to provide 100 Gigabit broadband access to Intesa, a transformative new mixed-use development at University Circle. University Circle is the fastest growing employment district in Northeast Ohio and a world class center for education, health care, and the arts.
Under this Agreement, Intesa will be the first private commercial building in the United States to offer 100 Gigabit speed to its residents and businesses. OneCommunity is a non-profit organization working to turn Northeast Ohio into a "Smart Region," with a focus on advancing digital capabilities and effective use of technology.
Intesa is important to Cleveland's economic renaissance and a launching point to bring new jobs to the region. This project will position Cleveland as a national leader in broadband infrastructure and will attract significant corporate investment and local community benefit. "Cleveland will become a unique environment for the design, development, and testing of advanced university, telemedicine, and biotech applications," said Brett Lindsey, Chief Operating Officer at OneCommunity.
The astonishing speeds of 100 Gigabits per second are in high demand by leading researchers and global companies in competitive markets around the world, serving as a platform for innovation and collaboration and advancing job growth across the medical research, university, and technology industries. According to Lev Gonick, Chief Information Officer at Case Western Reserve University, "Cleveland has long been recognized as a pioneering city for its innovation work in broadband. In the next decade we're going to be among the leading regions in the country strengthening 21st century economic development."
Intesa's network will be a game changer for Cleveland, with internet connections that will be thousands of times faster than what the average Northeast Ohioan uses at home. "This groundbreaking development will be the first real estate project in our region, supporting technological innovation and transformation to Cleveland's new tech economy," said Peter Rubin, President of The Coral Company.
"Access to ultra high-speed broadband networks is an invaluable asset to our County. It will help us better serve our citizens and communities," said Ed Fitzgerald, Cuyahoga County Executive. Improved broadband infrastructures help businesses move faster and are needed to take advantage of new digital tools such as GIS mapping, telemedicine, and video conferencing. It connects people and ideas, enabling companies to share information and work in real time. New developments in health information technology and mobile health, such as transmitting 300,000 X-rays in under a minute, require high-speed broadband. And advances in distance learning, civic engagement, public safety, and smart energy grids, require expanded bandwidth.
Intesa's network signals a departure from the strategies of the past that only fulfilled current demand, without assessing future needs. As video, data, and voice applications continue to accelerate, Intesa's 100 gigabit broadband infrastructure signals a giant technological leap into the future. According to Tony Panzica, President of Panzica Construction,"It's a perfect example of how we intend to bring people together from the public and private sector to drive innovation and create economic opportunity."
ONECOMMUNITY
Established in 2003, OneCommunity directs its resources and investment to support technological innovation and highly efficient and customer-centric public services. Their ultra-high-speed, fiber-optic broadband network covers nearly 2,000 miles around Northeast Ohio and connects more than 2,300 public institutions such as hospitals, schools, libraries and government offices.
INTESA
Intesa is a groundbreaking, visionary project, which is being developed by The Coral Company and Panzica Construction in the heart of the University Circle District in Cleveland. It is a vertically and horizontally integrated mixed-use development combining technology, office space, apartments, restaurants, green space, and structured parking, in a contemporary and sustainable design.
Slated to break ground in 2013, Intesa's three towers include a 130,000 square foot office building, a 100-suite market rate apartment building and an 80-unit residential community, with covered access to a 710 space parking structure. It will be a hub for innovation, serve as a catalyst for regional economic growth and will be tagged as the most advanced business location in Northeastern Ohio.
Intesa's 2-story platform houses lobbies, restaurants, and a retail component. The buildings are linked by a second-story, 20,000 square foot "tech ribbon" which will host a variety of global communications and technology firms, including an executive briefing center equipped with telepresence capability, showrooms, sales offices, and training facilities.
As a transit oriented development, Intesa provides direct access to the new RTA Red Line Station serving University Circle and Little Italy, the Health Line and RTA's surface transportation connection between University Circle and downtown Cleveland. "Intesa embraces the concept of transit oriented development. It will make University Circle a more walkable destination for the thousands of visitors, students and workers who come here on a daily basis," said Chris Ronayne, President of University Circle, Inc. The location is home to CWRU and a multitude of cultural and educational venues, including: The Cleveland Museum of Art, The Cleveland Orchestra, MOCA Cleveland, The Cleveland Museum of Natural History and the Cleveland Institute of Music.
Find More Tech Press Releases