New opportunity for bright sparks at MidKent College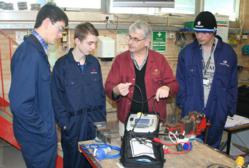 Kent, England, UK (PRWEB UK) 9 November 2012
Trainee electricians are the latest MidKent College students to benefit from a new business venture designed to increase their employability.
MKC Aspire Ltd is a division of the College designed to enhance the learning experience of students by creating real life opportunities for them, and is currently in the process of setting up several new projects.
Its latest aims to teach learners how to carry out PATs portable appliance tests so they can help businesses fulfil health and safety requirements by regularly maintaining electrical equipment.
Once the five-week course is completed, the students will be paid to carry out PATs across the College and at the Maidstone Campus in particular as each room is opened following the ongoing