New Fifth Grade Spelling App Makes Practicing Spelling Fun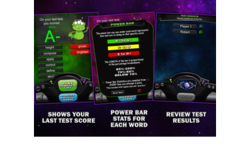 Portage, MI (PRWEB) September 22, 2012
Help your child tackle fifth grade spelling this fall with Learning Gems intergalactic educational app for tablets featuring 28 different lists that include 556 words presented by a charming alien host.
Spelling Space 5th Grade, now available for tablets in the Barnes & Noble and Amazon Kindle app stores as well as from Google Play, features spelling lists that have been mirrored to those from an existing 5th grade teachers lists. Through this collaboration with elementary educators, Learning Gems was able to create 28 different lists that challenge 5th graders to correctly spell 556 high frequency words. The words were then recorded in a female voice from an actual teacher for the audio portion of the app.
During gameplay, the words are read aloud to the students who can then type in their response on a keyboard. Each correct answer awards them with an asteroid that will come into play upon completing the spelling list. Once the spelling list has been finished, the student can put their earned asteroids to action shooting at space ships in Spelling Space 5th Grades exciting mini game. This reward keeps youngsters engaged and excited about spelling practice.
Individual accounts can be created in the game for each participant. Then, spelling lists can be assigned to the different student to practice. Every grade received is recorded and stored so progress can be measured. Spelling Space 5th Grade makes a great tool for homeschooling, in classrooms or for extra practice outside of school. Entire lists can be attempted or trouble words can be singled out to best help the student grasp the spelling of a word.
Other versions of Spelling Space are available from Learning Gems as well. There are versions geared toward 1st, 2nd, 3rd, 4th and 6th grade students. Yet another spelling practice app, Spelling Space Ultimate, allows users to create their own unique spelling lists.
The Learning Gems team consists of experienced school teachers, programmers, graphic designers and copywriters. A venture of Blue Fire Media, Learning Gems offers other learning apps that encourage youngsters to practice math, memory skills, Spanish and other basic concepts including colors and shapes. Sister company Blue Fire Media specializes in web design and development, web marketing and SEO.
Related Graphic Press Releases