New at Jaguarwoman Designs – Lucie & Jaguarwoman's "Infinite Tassels"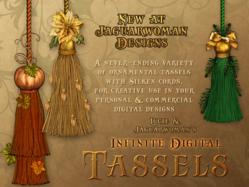 Tacoma, WA (PRWEB) November 07, 2012
"Infinite Tassels" is a huge, versatile ornamental design resource with themed embellished digital tassels and satin cords that will be useful through every holiday and celebration around the year. The range of palettes and styles include floral, holiday themes, beachy themes, Gothy themes, and bejelled/beribboned themes in a wide range of hues. All tassels have lots of charming details. But if these embellishments are not enough design range, a LAYERED psd file with greyscale elements (2 tassel styles, ornate metallic spindle elements, horizontal cord wraps, and orbs) is included so that the tassel's can be rehued to individual taste, using different embellishments for many additional design projects that could benefit by a beautiful fancy silk tassel. All design elements are in png file format, on a transparent background, in large pixel dimensions, 300 dpi. The range of size for the tassel elements are 1500-2000 pixels and the cords themselves are provided in individual png files, without external drop shadow, 300 dpi. This product may be used for commercial and personal projects but may not be used to create another merchant design resource.
Starting the 15th year of creative presence on the Internet, providing rare & powerful image resources for personal & commercial use . . .

Digitally Painted Floral & Animal Art, Abstract Backgrounds & Landscapes, Ornamental Alphabets, Decorative Borders & Ornaments, 3d Fantasy Characters, Digital Scrapbooking Kits & Design Resources For Personal Use & Commercial Use, 3d Texture Resources, Printables, Photoshop Styles & Brushes, Home Decor, Invitations, Greeting Cards, Custom Design & Illustration, Webdesign & Maintenance, Computer System Design & Upgrades . . . & much much more.
Related Computer Press Releases