NAPW Ft. Worth/Tarrant County Local Chapter Raised Money for Female Veterans at and Hosted Marketing Pro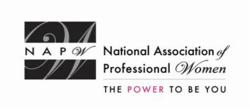 Garden City, NY (PRWEB) September 11, 2012
Members and guests of the NAPW Ft. Worth/Tarrant County Local Chapter gathered together for professional networking meetings this summer. The group raised money for female veterans by selling their jewelry and members and guests got expert tips from marketing professional Whitney Holdens presentation, Brand 101.
A company that buys gold and silver was present and members and guests were able to have their jewelry weighed. After being quoted a fair price, members and guests could choose to sell their pieces to the company. A percentage of the proceeds from the sales was donated to the Chapters charity of choice, Grace After Fire. Members and guests raised $ 200 for the nonprofit organization that helps women veterans ease back into civilian life in the United States.
Whatever their need, Grace After Fire makes every effort to meet it, and we are happy to be able to help, said Ft. Worth/Tarrant County Local Chapter President Mae Hoover. Two of our members volunteered to answer phones to just talk to the women who need a listening ear.
A member from the organization was at the Chapter meeting to accept the generous donation and talk to members and guests about the important work it does. According to the representative, 20,000 women veterans live in Texas, 300,000 live in the United States, 25% are unemployed, and many are injured.
It was an inspiring presentation. In fact, the man from the gold-buying company put in some of his own money to further the cause, said Mae.
Whitney Holden, volunteered to help Mae with social media. Whitney is a graphic artist and already does social media for the company where she works, so she will certainly be an asset to the Chapter.
At the Chapters August networking meeting, Mae spoke a bit about NAPW and its membership benefits. She also announced that Toni Allison won an award for outstanding community service.

In addition to the networking portion of the meeting, where members and guests had the opportunity to introduce themselves and their businesses, Whitney Holden took the floor and began her presentation, Brand 101. She covered the basics of branding, as it is geared toward small business owners and independent contractors who dont always have the opportunity to consult an expert.
A brand is so much more than a logo. A poorly run business with a beautiful logo wont have a strong brand and vice-versa, Whitney told the crowd. From your side, everything you do for (and in) your business is your brand. From the customers side, its how they feel about your business.
Whitney told the crowd to start thinking about how to present their brand, by answering the following questions:
Who are you?
There are hundreds if not thousands of people in the area that can do what you do. But none of them are you, she said. Its proven that people do business with those they know, like, and trust; you need to be yourself. Tell them what you do, how you do it, and embrace practices that are uniquely you.
Where did you come from?
Geographically, people prefer to work with those who are near to them. Figuratively, always let your prospects and clients know your professional background if it lends credibility to your cause, she went on. Let them know how you came into your current position or started your business. This is a great way to make an impression and show that you can work hard.
What do I stand for?
Do brands like Nike, TOMS, and Apple have anything in common? There are other huge competitors in the sports apparel, shoe, and technology industries, so why are these companies successful? Whitney asked. Because their messaging has a strong, simple and consistent underlying message: Victory (Nike), Giving (TOMS), and Innovation (Apple).
Whitney concluded her presentation with the following advice:
If you dont have a clear cause, pick a word for your brand and use it to guide your decisions. You could even choose a set of traits, as though your brand was a person.
The National Association of Professional Women (NAPW) is the largest and most recognized network of female professionals. NAPW provides a forum where women can interact, exchange ideas, educate, network, and empower. NAPW Local Chapters allow members to maximize their experience through meetings, networking opportunities, and professional events.
For additional information regarding the NAPW Ft. Worth/Tarrant County Local Chapter and/or NAPW, please visit http://www.napw.com.
Follow NAPW on Facebook and Twitter.
###
Find More Graphic Press Releases