Living – The Home Technology People complete their state of the art Notting Hill project to great acclaim and a seal of approval from Kevin McCloud's Grand Design Program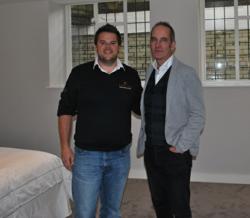 (PRWEB UK) 22 October 2012
Paul Clarke Living's Technical Director has been extremely busy of late. Living have launched several industry firsts with their unique minimalist technology designs and has been very involved with the finishing touches to their latest project completion in Notting Hill, which also happens to be featuring on the hit Channel 4 program Grand Designs 24th October 2012.
This wonderful and exciting project started for Living back in 2011. As all projects tend to start, a complete design was required but with the added requirement that Living do away with the proposed Building Management System, to be replaced with their own integrated solution, fully monitored and controlled from the Apple iPads to be installed. In addition almost every item in the home was also to be monitored and controlled including, Home Automation, Lighting, Audio/Visual, Home Cinema, Heating, Cooling, Blinds and the extremely popular Smart Glass window system. To say that this property has state of the art Home Automation is an understatement indeed.
What really makes this project and installation unique is the approach Living have taken with their minimalist technology design. Living have long been extoling the virtues of such an approach to home technology, shunning conventional wisdom that all walls must have huge touch screens, room stats, Audio/Visual controls or worse still all of the above. The result is this modern yet homely property that anyone can control from the moment they walk in. Apple may have coined the phrase you already know how to use it but Living Home Technology have mastered the art.
Find More Tech Press Releases