Janna Lewis Moves Intellectual Property and Government Contracts Practice to Colorado Springs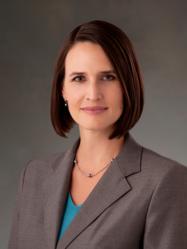 Colorado Springs, Colorado (PRWEB) November 14, 2012
Holland & Hart LLP is pleased to announce Intellectual Property and Government Contracts attorney Janna Lewis has moved her practice to the firms Colorado Springs office. Lewis was previously based out of Holland & Harts Salt Lake City office.
As an active member of the firms Government Contracts practice, Lewis will focus on driving growth in the Colorado Springs market, as well as maintaining her Salt Lake City client base.
Lewis structures and negotiates licensing and technology deals within the commercial and the government sectors, providing her clients with practical, innovative, and cost-effective solutions.
Lewis also regularly assists clients in developing and optimizing their intellectual property portfolios. She conducts risk assessments for complex multi-party licenses and tiered government contracts. She also represents clients in government contract bid protests at the agency level and before the Court of Federal Claims.
Her clients hail from a variety of industries, including software, computer hardware, aerospace, communications, mobile devices, medical devices, entertainment, and renewable energy.
Lewis is a Certified Licensing Professional by the International Licensing Executives Society, as well as a member of the American Intellectual Property Law Association (Licensing and Management of IP Assets Committee, Anti-Counterfeiting and Anti-Piracy Committee), the American Bar Association (Forum Committee on Air and Space Law), the International Bar Association (Space Law, Technology Law, Intellectual Property and Entertainment Law Committees), the Women Tech Council (Education Committee and Advisory Board member), and Women in Aerospace.
Lewis holds a J.D. from the S.J. Quinney College of Law, University of Utah, a B.S. from Southern Utah University, and is pursuing a graduate certificate in International Security from Stanford University.
About Holland & Hart
With its firm-wide resources, local presence and coordinated efforts, Holland & Hart LLP delivers integrated legal solutions to regional, national and international clients of all sizes.
Since its inception in 1947, Holland & Harts more than 400 lawyers have consistently been recognized by leading national and international peer and industry review organizations for innovation and dedication to the practice of law.
For more information, visit http://www.hollandhart.com.
Related Computer Press Releases