Its The Great Pumpkin, Charlie Brown Comes to iPhone, iPad & iPod touch Just In Time for Halloween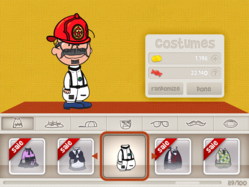 VANCOUVER, BRITISH COLUMBIA (PRWEB) October 11, 2012
Loud Crow Interactive, award-winning developer and publisher of interactive digital books, and Peanuts Worldwide are pleased to announce the release of Its The Great Pumpkin, Charlie Brown, the latest in a series of interactive book apps for iPhone, iPad and iPod touch based on the iconic PEANUTS animated television specials. Its The Great Pumpkin, Charlie Brown is the much anticipated follow-up to Loud Crows acclaimed A Charlie Brown Christmas," which took home a myriad of awards in 2011, including the Best App Ever Awards Best Kids App and Cynopsis Medias Kids !magination Award for Best eBook.
Narrated by Peter Robbins, the original voice of Charlie Brown, Its the Great Pumpkin, Charlie Brown features original voices, animations, and music from the 1966 television special. The app also debuts an entirely new customization feature that allows users to create and personalize their own PEANUTS character. With over a billion avatar and costume combinations to choose from, users can take their unique creations trick-or-treating with the PEANUTS gang.
Users can also carve, paint and share their very own Great Pumpkin, play wartime songs on Schroeders piano, bob for apples with Lucy and Snoopy and make objects spring to life with a tap of the finger or a tilt of the page. Like all Loud Crow apps, It's the Great Pumpkin, Charlie Brown includes both read to me and read it myself modes and provides educational opportunities by allowing readers to tap on an individual word to hear it read aloud.
Neil Cole, CEO, Iconix Brand Group, stated, We are thrilled to be able to share the magic of Its The Great Pumpkin, Charlie Brown to this younger, more tech-savvy consumer. We have had great success with our A Charlie Brown Christmas app, and we look forward to continuing to expose the PEANUTS characters to this new fan base."
"It feels like forever since we released the best-selling A Charlie Brown Christmas last year. But I think our fans will agree the wait was well worth it, says Calvin Wang, President and Founder of Loud Crow Interactive. "It's the Great Pumpkin, Charlie Brown is our most ambitious app yet. We've created customization and social features that further immerse you within the story but also allow you to share your own personalized PEANUTS characters with the rest of the world."
Its the Great Pumpkin, Charlie Brown is available for $ 4.99 from the App Store on iPhone, iPad and iPod touch or at http://www.itunes.com/appstore.
About Peanuts Worldwide and Iconix Brand Group
The PEANUTS characters and related intellectual property are owned by Peanuts Worldwide LLC, a joint venture owned 80% by Iconix Brand Group, Inc. and 20% by members of the Charles M. Schulz family. Iconix Brand Group, Inc. (NASDAQ: ICON) owns, licenses and markets a growing portfolio of consumer brands including CANDIES (R), BONGO (R), BADGLEY MISCHKA (R),JOE BOXER (R), RAMPAGE (R), MUDD (R), LONDON FOG (R), MOSSIMO (R), OCEAN PACIFIC(R), DANSKIN (R), ROCA WEAR(R), ZOO YORK (R), CANNON (R), ROYAL VELVET (R), FIELDCREST (R), CHARISMA (R), STARTER (R) WAVERLY (R), and SHARPER IMAGE (R). In addition, Iconix owns an interest in the ARTFUL DODGER (R), ED HARDY (R), ECKO (R), MARC ECKO (R), MATERIAL GIRL(TM), and PEANUTS brands. The Company licenses its brands to a network of leading retailers and manufacturers that touch every major segment of retail distribution from the luxury market to the mass market in both the U.S. and worldwide. Through its in-house business development, merchandising, advertising and public relations departments Iconix manages its brands to drive greater consumer awareness and equity.
About Loud Crow Interactive
Loud Crow Interactive Inc. is an award-winning developer and publisher of interactive digital books. The companys PEANUTS, PopOut! and Boynton Moo Media series of digital books have garnered numerous honors including Parents Choice Gold Awards, Kirkus Reviews Kirkus Stars, Apple iPhone and iPad App of the Week, and Apple iPad Hall of Fame. Loud Crows products have also been featured in the NY Times, Mashable, FOX News, USA Today, The New Yorker, MSNBC, NPR, Kirkus Reviews, and School Library Journal. The teams ongoing mission is to create world-class, highest-quality interactive reading experiences that educate, entertain and inspire. Visit http://www.loudcrow.com for more details.
More Tech Press Releases