Introducing Lacuna Creative, a Boutique Marketing and Design Firm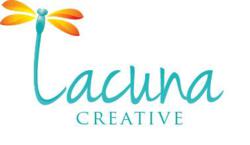 Leawood, KS (PRWEB) September 21, 2012
Lacuna Creative, LLC, was created with one idea in mind; to provide clients with the means necessary to truly brand and promote their businesses through a variety of marketing outlets. This new venture is made up of individuals that were formerly part of the marketing division of a large hotel and resort management company, Leisure Hotels & Resorts. The former Corporate Director of Marketing, Katie Brooks, now owns and operates this successful boutique design and marketing firm focusing not only on the hospitality industry but also a wide array of businesses looking to increase awareness and promotion of their businesses. Lacuna helps build brands through a variety of marketing strategies such as website design, internet and search engine marketing, SEO, email campaigns, social media, branding and graphic design.
I felt the hospitality industry and specifically independent resorts and hotels needed a dedicated firm that fully understands the need to drive traffic to those property websites that dont have the dedicated support many franchised properties have. Our team has over ten years experience in hospitality marketing and we have the knowledge and skill set to truly market these properties whether that is through branding, internet marketing, or many of our other services. We like to pride ourselves on our website design and truly understand that a great website is the key to a successful brand, an overall web presence and a proven way to track your businesses success. This move also enabled us to utilize our expertise in marketing to a variety of other industries and help other small to large businesses create a presence through the many stages of start up, re-branding, or even revamping an existing business, Brooks stated.
Brooks has been involved in the hotel and resort industry since she was young, having worked alongside her father who owns and operates over 20 hotels and resorts, and his father before him an independent resort owner as well. We are an independent multi-media design firm that delivers unbeatable services. All of our team has worked in marketing and the hospitality industry for over ten years, we have the big brand marketing experience under our belts but we bring this knowledge and experience to our small boutique approach, commented Brooks.
Lacuna Creatives client base spans through many industries and combines the art of design and technology to connect too many types of clients. Located in the Kansas City metro area, and specializing in website design and development, graphic design, internet marketing and search engine optimization, branding, and print services. Employing a small team this boutique firm is dedicated to selling and branding businesses through marketing. For more information visit, http://www.lacunacreative.com.