GraphicDesign.com Analyzes Logo Design Pricing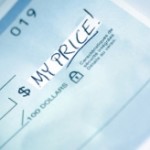 Dallas, TX (PRWEB) September 11, 2012
Creating a logo can be a turning point in a graphic designer's career. Take Oregon University student Carolyn Davidson, for example. In 1971, she created Nike's logo, one of the most recognized ones in existence, for a scant $ 35 fee.
As Advisory Board member Neil Tortorella put it in a feature article published this week on GraphicDesign.com, "We've all heard that little horror story of underestimating In 1983, Ms. Davidson received a gold and diamond 'swoosh' ring in recognition of her design. Oh, and she also received a nifty, suitable-for-framing certificate… and an undisclosed amount of Nike stock. You might not be so lucky."
How should graphic designers price logo projects, then, in order to ensure maximum value short-term and long-term? Tortorella suggested focusing on three factors: time, costs, and the valuation factor. The poll article can he found HERE.
While time and costs can be fairly straightforward, figuring out a logo's valuation can be a tricky process. Tortorella explained, "The valuation factor is your compensation for that future value. Coming up with a number can be a bit of design clairvoyance, but typically it depends on where you see the logo's use and value down the road and how much you think that's worth. It also can become a negotiating tool."
Logos aren't cheap either. As Tortorella's article on GraphicDesign.com eloquently points out, four- and five-figure price tags are quite common: "A logo fee for a small- to medium-sized company can easily range from $ 2,000 to $ 10,000. My [grossly outdated] copy of the 'Graphic Artists Guild's Handbook of Pricing and Ethical Guidelines' estimates a logo fee range of $ 5,000 to $ 12,000 for companies with revenues under $ 1 million."
Pepsi's logo came in at a price tag of $ 1 million, while BP's was 211 times that amount. What can run up the cost of certain projects? "What also needs to be considered for the high priced logos is the scope of the project," Tortorella rationalized. "Often there's much more than just the design. It can include market research, focus groups, trademark searches and other legal work, applying the mark to signage, literature, etc."
Graphic design students could be the brains behind a number of marquee logos. To that end, GraphicDesign.com will soon be announcing the members of its all-new Student Council. The Council was originally announced in July and aims in part to grow GraphicDesign.com into a student-friendly hub.
The Student Council is being created in conjunction with CreativeInterns.com and phone interviews have been conducted to determine suitable candidates. Student Council members will receive perks like paid writing gigs on GraphicDesign.com, published bios, and opportunities to network and attend high-profile design conferences.
Check back to GraphicDesign.com to see who made the cut!
ABOUT GRAPHICDESIGN.COM

GraphicDesign.com is a leading source of news and information devoted entirely to the graphic design industry. Employers, students, and freelancers come to GraphicDesign.com to read and discuss current news, information, events as well as to find graphic design firms and to post or search for graphic design jobs.
CONTACT:

Julia Wild

Editor and Marketing Director

julia (at) graphicdesign (dot) com
Find More Graphic Press Releases