Gary Pinetree Offers Free Seedlings December 7 & 14.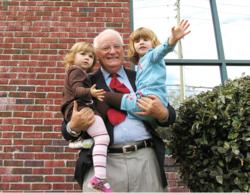 Dunedin, FL / New Port Richey, FL (PRWEB) November 20, 2012
Floridas west coast has a sequel to Johnny Appleseed. Its Gary Pinetree, who over the past several years, has given away thousands of longleaf pine trees.
Its part of his Plant 1,000 trees Before You Die campaign and he will be distributing the trees for free 9 a.m. to 1 p.m. Dec. 7 at the New Port Richey Public Library and 8 a.m. to noon Dec. 14 at the Green Market in downtown Dunedin.
Gary Pinetree is actually Dr. Garland Forbes, who is one of the most experienced endodontists (root canal specialist) in Florida. While providing relief to tens of thousands of people with tooth sensitivity to cold and hot over the years, Dr. Forbes has made his mark on the earth giving away over 15,000 trees during his life.
Twenty years ago, I wanted to build some furniture. I went to the lumber store and said, I need some maple, oak and walnut wood to build some furniture. The guy said, Im sorry. We dont have that. I said, Why dont you have it? He explained that the hardwood forests had been cut down about a century before and nobody ever replanted them. I thought, Well, thats poor planning to take a supply and deplete it and have no thought to replenish it so there will be more later. If I ever get the chance, Im going to help replant some of these trees.
Over the years, Dr. Forbes has had his effort introduced into the congressional record by Rep. Gus Bilirakas. He has been honored by the State of Florida, local chambers of commerce and civic groups.
Longleaf pines are the most common and oldest pines found in Florida. The trees can grow up to 80 foot high and are characterized by tall, straight trunks. The needles are long. Often the longleaf trees have been used for ship masts. The trees have been found from Virginia to Florida to Texas, but it is believed only 3% remain from pre-settlement days.
Nurseryman Jonathan Chapman was given the name Johnny Appleseed during his life pursuit to introduce apple trees to parts of the upper northeast and Midwest in the 1800s.
All people from the community are invited to participate in a opening ceremony at 9:30 a.m. Dec. 7 in New Port Richey and 8:30 a.m. at the Dunedin Green Market. Classes from schools and churches are encouraged to attend as a way to participate in giving back to our community.
Dr. Forbes operates offices in Dunedin and New Port Richey, and is recognized for his experience, technological expertise and the quality of care given to patients over the past 20 years. He was the first endodontist in west Pasco and Pinellas county to obtain Computer Tomography CT, a 3D image providing better diagnosis than ever before in regard to tooth pain.
To schedule an interview or for more information, contact Dr. Forbes at 727-734-3636. Additional information may be found at http://www.ForbesEndo.com/our-news/
Related Computer Press Releases