FilesFast Give Free File Transfer Accounts To Freelancers and SMEs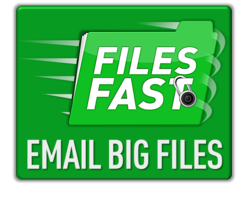 Manchester (PRWEB UK) 28 September 2012
Everyone that uses a PC in their home or workplace will have been in a situation where they needed to send a large electronic file to someone only to find that the file size was too large to be handled by their email system. Processes like file transfer protocol (FTP) are available for this purpose but most people are unfamiliar with their use.
To remedy this problem, FilesFast provides a very fast, safe, secure and user friendly solution. Anyone who wishes to send a large electronic file of any size, simply needs to enter an e mail address or group of e mail addresses on a FilesFast send mail form on their PC, enter a covering message, upload their attachment and hit the send button.
Their file is then uploaded to a remote secure server and their intended recipient receives an email which contains a link to the file for them to download. After the recipient has opened the message and downloaded the file via the link, the sender then receives a peace of mind confirmation of receipt message advising them that their file has been successfully downloaded.
Using a web browser or unique desktop software, the FilesFast service is accessible using both Mac and PC systems. In addition, a handy iPhone app provides users with instant notification when they receive a file so they can also forward previously sent and received files directly from the app, without having the bandwidth costs associated with downloading large data files. A future release will also allow download and opening of zip files.
To ensure that files are safe and secure during transmission and download, FilesFast utilise the same 256-bit SSL encryption that banks use, with additional security and convenience provided by the use of system-generated passwords.
This makes it an ideal working tool for anyone who needs to exchange large electronic files on a regular basis like video producers, graphic designers, engineers and printers.
FilesFast are particularly keen to embrace freelancers, independent producers and SMEs. Creative Director, Jessica Boulton explains Our research revealed that many freelancers and SMEs are unaware of this type of service and the way it could make their job of work a whole lot easier! Thats why wed like to encourage them to try our free entry level service
FilesFast offer completely free access to its service with a monthly account which enables users to send up to 2GB of files per month without charge.
For more information on FilesFast file transfer services, please visit http://www.sendlargefilesfast.com