BridgeFront Launches HIPAA 2013 Staff Education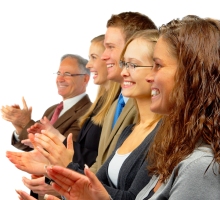 Vancouver, Wash. (PRWEB) October 23, 2012
BridgeFront announces its 2013 HIPAA staff training course(s). With half a million completions in 2012, BridgeFronts HIPAA online courses are one of the widest-used education tools in the compliance industry.
This is version eight; and similar to past versions, the training meets or exceeds federal HIPAA regulations for staff education required of covered entities and business associates.
Federal HIPAA regulations require covered entities and business associates to train staff upon hire and provide refresher training as the regulations shift. The new training captures the changing regulations seen in the last 12 months. New for BridgeFront's 2013 HIPAA education is this:


Information pertaining to Alcohol and Drug Abuse Patient Records has been added
Additional clarity on covered transactions has been updated
Updated information on the Health Plan Identifier has been added
"We rely on BridgeFront's HIPAA online training to ensure all new employees understand the key aspects of HIPAA that are relevant to our company," said the Organization Development Director at The National Committee for Quality Assurance (NCQA). "The ability to quickly assign someone a course and track course progress and completion makes the process seamless."
BridgeFront offers more than 50 role-based courses available online from any internet-enabled device. Written by nationally-recognized experts, the courses are available for Hospitals, Provider Practices, Health Plans, Business Associates, Human Resources, Chiropractors, Employers, and State and Local Government. Courses can also be edited by each organization for their specific needs or situation.
"Data breaches are still a major threat, particularly in healthcare. One major trend I see are 'lower tech' incidents created largely due to lack of training," says Christine Arevalo, Director of Healthcare Identity Management for ID Experts.
"All the expensive technology and insurance policies out there can't compensate for a holistic privacy and security training program. Regulators, including OCR, are looking for healthcare organizations to create a 'culture of compliance' and this can only be accomplished through training."
To see a sample course from BridgeFront's HIPAA library, visit its website at: http://www.bridgefront.com.
Courses are simple-to-use and offer a straight-forward approach to providing just what employees need to protect organizations from data breaches and/or violations. Inside each course, students will find optional audio, real life scenarios, and a short quiz. A "Certificate of Mastery," is available real-time to the employee and HR, proving compliance.
For more information, visit http://www.bridgefront.com or contact us at (866) 447-2211.
About BridgeFront:
Effective, customizable and budget-friendly; BridgeFront helps healthcare, government and businesses provide the highest quality of staff education. You have the flexibility to take any online course as-is or modify it, and even build your own courses. For over ten years, BridgeFront has provided engaging online education on compliance, revenue cycle, patient communications, clinical, leadership and now ICD-10.
###
Find More Tech Press Releases