Austin Tech Company Launches New Website for Small Businesses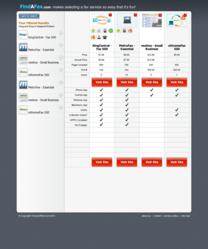 Austin, Texas (PRWEB) November 19, 2012
Comparison Website LLC announced the launch of their new fax comparison website, FindAFax.com. The website, designed with small businesses and entrepreneurs in mind, helps visitors quickly identify the best online fax option for their unique needs. It gives users the ability to review each major fax plan, filter out plans based on specific needs and quickly compare your recommended plans side-by-side, making it the first of its kind for this industry. Founder Leo Welder says the site combines our years of experience helping people identify the best online services for their business needs, our intimate knowledge of the online fax industry, and the latest interactive trends into a site that is both incredibly useful and even a little fun.
Why Internet Fax Services?

Earlier this month, GFI Software released a survey showing that 85 percent of U S. office workers rely on faxing as a form of office communication. Of that group, 72 percent say that they are still relying on a traditional fax machine. This is a staggering amount. In a time when the economy is still struggling to recover, small businesses need to be looking into new ways to cut costs and improve efficiency. Using an email faxing service accomplishes both of these goals and is a perfect example of the type of solutions these small business owners should be looking into… says Amber Hauptman of ChooseWhat.com, an online resource for start-ups. Online fax plans give users the ability to fax documents through an internet connection over their computer, tablet or smart phone, without the need for a fax machine. Business owners do not need to purchase a fax-only dedicated phone line, nor costly printer ink and paper. Best of all, there is no need to invest in a bulky fax machine, which can cost around $ 500 up front and $ 100 a month in needed repairs or security software. FindAFax.com reviews internet fax plans starting as low as $ 4.95 per month with a 30-day free trial period allowing users to test out different services before they make their final decision.
Faxing via email is also more secure and reliable than the traditional fax machine. The GFI survey also stated that 49 percent of the respondents have also seen a paper fax that was not intended for them. With an internet fax plan, faxes are sent directly to the intended user and in most cases encrypted prior to being sent, making it a perfect option for professionals that handle a lot of sensitive information, like health care or insurance professionals. In fact, for health care professionals, faxing may be the only legal option for sharing secure documents online, as email is not considered HIPAA compliant. Online fax services help these professionals save time, money and unnecessary stress associated with risks of a traditional faxing machine.
How Does FindAFax.com Work?

FindAFax.com team members have spent over five years testing, tracking and evaluating these services to give small business owners amazing functionality and company insight. Initially users identify their needs based on their number of users, fax number needs and whether they would be using this service for business or personal use. Once the user has clicked on Find A Fax they are immediately served their top internet fax recommendations based on those answers. Using the filter tool on the left, business owners can narrow down the results based on their specific business needs. Some of these options include:

The minimum number of pages send/receive per month
Amount you are willing to spend per month
24/7 customer support
HIPAA compliant
Fax to International
E sign functionality
Smart Phone app availability
Fax number porting
Toll-free numbers
Free trial offered
No outages in the last 6 months
Ability to save contacts
Microsoft Office Integration
Integrated with virtual phone system or pbx service
By Company Name (eFax, MetroFax, RingCentral, etc.)
Once the user has filtered the results based on their specific business needs, they can compare the remaining options side-by-side with FindAFaxs interactive comparison graph. If the business owner is still unsure, they can click on the specific plan to get an in-depth view of features and product screenshots. These attributes give users the ability to see any hidden fees, a unique review including pros and cons of the specific faxing plan, latest outages, recommendations from previous users and a link to unique pricing for FindAFax users.
Check out this video that gives an overview of the fax comparison tool and functionality: http://youtu.be/Vm0Zr1AkMLQ
About FindAFax:

FindAFax.com is brought to you by a group of talented individuals focused on making your online fax search a breeze. Every team member shares a passion for excellence, constantly working to make your experience as enjoyable as humanly possible. We ensure accurate and timely data for all of our fax reviews and plan comparison charts. Visit the site for more information: http://www.findafax.com/

###