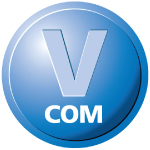 New York, NY (PRWEB) September 13, 2012
V.Com (http://www.virtualintercom.com) is re-introducing their cutting edge intra-office communication system with added features to increase practice efficiency and patient satisfaction. Their fully customizable system allows messages to be sent instantly between different chairs and rooms, enabling heightened communication of important information. With V.Com, all inbound messages and in office communication can be reliably and efficiently managed.
The latest addition to their virtual intercom system incorporates Web Forms, allowing patients to fill out a practices forms online. With V.Coms Automated Web Forms your practice can be truly paperless. Using immediate recognition system, all Web Forms are automatically filed into the respective patients virtual chart, within any integrated practice management program, completely bypassing tedious and time consuming filing.
V.Com is truly the future of intra-office communications. The powerful tools offered through the service include Tech Support. The V.Com service is offered in a Free Version, Standard ($ 49.95/mo), and Premium Version ($ 69.95/mo) Quick and efficient, V.Com is easily installed and integrated into your office. For more information on V.Coms service, please visit http://www.virtualintercom.com.
Related Tech Press Releases