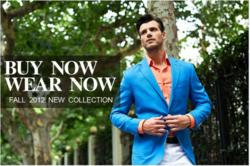 (PRWEB) October 25, 2012
Recently, UPUNIQUE, a brand of fashionable custom suits, introduced its Custom Menswear 2013 Collection, which consists of tailored suits, tailored dress shirts, custom blazers, cotton pants and varied fashion accessories for men, and all of them feature several characteristics: breathable fabrics, bright colors and light weight.
UPUNIQUE has established great public praise in the last few years, and its custom menswear is no longer synonymous with luxury, but the grade and exclusive cultural connotation. Through the UPUNIQUE special online tailor system, a consumer just needs to entry the data of height, bust, the most suitable styles of suits for him can be presented on the computer screen.
At http://www.upunique.com, customers can customize suits, shirts, blazers and pants online in 15 minutes, and get to wear within 14 working days. We hope our clients can have better dressing experience through our products, and this is the place where our value lies. We are pretty confident about it. Said Leo Phang, CEO of the company.
Custom menswear has always been popular these years for its high quality, unique individuality and honorable exclusive feeling. Unlike women's enthusiasm for fashion dress, for men, a suit should highlight the label of status and taste.
Our Custom Menswear 2013 collection is more suitable for a small group of people, such as stars, celebrities, and part of the pursuit of the high-end crowd. Customers can visit our website to understand and feel the Custom Menswears quality and charm, and communicate also directly with the professional staff online. Perhaps it is not the most expensive, but it must be the best. As your bride is not necessarily the most beautiful in the world, but it certainly is the most suitable for you." Added, Leo Phang.
Leo Phang, CEO of UPUNIQUE, stated, To ensure the product top quality, and keep the leading position in style, UPUNIQUE has organized a strong team of product development and production management, consisted of menswear designers, pattern makers, buyers and quality controllers.
About UPUNIQUE

UPUNIQUE, located in the oriental fashion capital Shanghai, is a brand specialized in tailored suits on the European and American middle and high-end markets. UpUnique aims to provide 100% fit commitment, 30-day unconditional refund and 80-dollar free dress alternation. On UpUniques website, customers can get convenient dress alternation, remaking process and considerate customer services, which is to ensure 100% customer satisfaction.
To know more about custom menswear, please visit: http://www.upunique.com