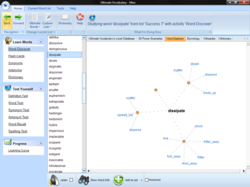 New York City, NY (PRWEB) October 20, 2012
Book clubs exclusively aimed at ESL learners constitute an effective and low-cost method of helping the assimilation of newcomers in their new country of residence. Such socially-oriented library involvement is saluted and further encouraged," Marc Slater, managing director of Ultimate Vocabulary stated today. The Guelph library is a strong example of the multifaceted benefits of ESL book clubs, Slater noted. Book club sessions facilitate and encourage ESL learning as these sessions are carried out in relaxed, non-intimidating contexts. This positive result has been announced by various other libraries that generously help ESL learners, like West Vancouver Memorial Library and Vaughan Public Libraries, also in Canada.
The Guelph ESL book club proved to be socially beneficial on many levels. From a practical point of view, ESL learners improved their vocabulary, as well as their comprehension and communication skills. An ESL book club is an effective vocabulary builder technique in which ESL learners practice, learn and increase vocabulary knowledge in a stress-free environment. Knowing that other people go through the same process as they do provides a sense of solidarity and relief, optimizing ESL learners experience of learning.
On an ending note, Marc Slater commented that through such initiatives, ESL learners get subtle, unforced cues on the sociocultural dimension of language. No one can deny that ESL book club involvement is a proven method of promoting ESL learners social integration and seamless cultural assimilation. For educational and social purposes such ESL projects should be further funded and encouraged, especially in countries where ESL learners are finding it hard to fit in.
For more information on Ultimate Vocabulary's features and advantages for ESL students, please visit the softwares official website: [http://www.ultimatevocabulary.com.

**********

About Ultimate Vocabulary
Ultimate Vocabulary provides a proven and powerful platform, built to improve anyones vocabulary.
The interactive self-improvement system provides more learning tools than any other program on the market, as well as more information on words.
The Ultimate Vocabulary software provides each and every user with a personal computer tutor. Providing a step-by-step guide to learning a powerful vocabulary, Ultimate Vocabulary is the learning tool everyone can benefit from.
Of course, the software is also backed by eReflects iron-clad money back guarantee.
Related Computer Press Releases