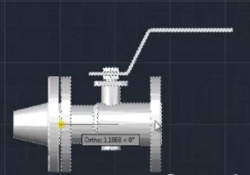 (PRWEB) October 23, 2012
With the age of CAD (Computer Aided Drafting), piping plans can be easily designed and drawn using pre-drawn piping symbols.
Today piping layouts are usually created using Piping Symbol Libraries. Alternatively other more advance piping programs are available that create these pipe fittings as needed using menu systems and dialogs. Many use the latest ANSI/AWWA or similar specifications so that they are drawn with accuracy.
Piping systems are typically used to transport fluids from one location to another. Pipe systems are used in various industries such as chemical, energy and food.
"In order to creating a piping layout, the CAD user will need a set of Piping Symbols drawn to manufacturers specifications" says Erik Zetterberg owner of SimpleCAD. "Using a good library or piping utility in combination with a good knowledge of what connections work best, the draftsperson can more easily design and draw the pipe system."
Here are the 6 basic pipe fittings you need to know while designing or drawing a pipe plan.
1- An elbow is a pipe fitting installed between two straight lengths of pipe that allow the pipe run to change in direction. A typical elbow usually is a 45 or 90 degrees but other angles include 11.25