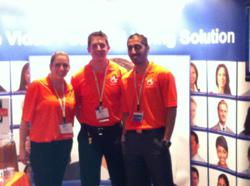 Chicago, IL (PRWEB) October 04, 2012
Spark Hire (http://www.SparkHire.com), the leading video interviewing platform, will be exhibiting at Booth 877 during the 15th Annual HR Technology Conference and Exposition held at McCormick Place in Chicago, IL on October 8th and 9th.
"We are going to be bringing a lot excitement to the HR Tech event, said Josh Tolan, CEO of Spark Hire. Not only will attendees be able to learn about our awesome video interviewing solutions, but they will also be invited to our unofficial HR Tech afterparty: HR Spark!"
Spark Hire will be hosting HR Spark on Monday, October 8th from 7-11 pm at Joe's Bar, a popular sports bar in Chicago. "We wanted to give HR Tech attendees a fun place to interact and socialize," says Tolan. "Partygoers will be able to mingle with other HR professionals over free drinks and appetizers and even hit the dance floor with a live DJ. That combined with a ton of giveaways and surprises makes this the place to be on Monday for any HR Tech attendee." (Click Here to Get Tickets to the Party)
Spark Hire's video interviewing solutions will be on display at Booth 877 in the HR Tech Expo Hall. Demonstrations will consist of one-way and live video interviews:
Spotlight Interviews: Employers can send a series of questions to candidates who respond with video answers. These interviews can be watched by the employer at their convenience.
Live Interviews: Employers can connect face-to-face with job seekers using their webcam.
Spark Hire will also be raffling away gifts such as t-shirts, coffee mugs and even free iPads! Be sure to stop by to watch one of the demonstrations for your chance to win one of these great prizes!
About Spark Hire:

Spark Hire is a video powered hiring network that connects job seekers and employers through video resumes and online interviews. By integrating video screening and video interviewing into the hiring process, Spark Hire bridges the gap from the initial application to the final hiring decision by providing job seekers with a better way to stand out and employers with a more efficient way to identify top candidates. For more information, please visit SparkHire.com.
About HR Tech:

Over the past 15 years, the HR Technology Conference & Exposition has been dedicated to connecting HR executives and practitioners with the technology solutions that can solve their biggest challenges. For 2012, the conference will provide attendees with the unprecedented opportunity to meet with the worlds most powerful software executives and HR technology experts and learn about the latest technologies that will advance the effectiveness of the HR function. For more information, please visit hrtechconference.com.