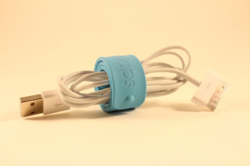 Hollywood, FL (PRWEB) October 25, 2012
Cableslaps (http://www.cableslaps.com) announces the debut and namesake product to conquer the spaghetti of cords and cables that threaten to overwhelm us today.
Building on the bistable spring concept popularized in the 80s slap bracelet but updated with a fully-bonded soft and grippy silicone coating replacing the traditional loose fabric jacket, Cableslaps coddle your precious electronics cords while organizing them securely. Cableslaps are the ultimate in easy and secure cord management.
There are two sizes and six hot colors available for Cableslaps. Both sizes coil-up to about the same diameter but the lightweight and compact small size works great for managing iPod, iPhone, iPad, smartphone, cellphone, and digital camera cables while the large is heavier and has a more powerful coiling action that is best suited to organizing larger cables, laptop cords with power transformers, extension cords and similar applications.
Cableslaps are constructed with a solid steel bistable spring core for durability and a fully-bonded, soft but grippy silicone outer casing to hold and coddle your precious cables. Due to their unique design, Cableslaps do not cause interference with electronic devices. In fact, performing musicians who have tested Cableslaps proclaim that these are the only cable management product they have found that does not add interference or noise even when used with powerful amplification.
Cableslaps are made to fit most applications but they are also easily adjustable if you prefer them to coil-up a little tighter. We could try to explain how to adjust them, but its one of those rare things that is easier done than said so visit Cableslaps.com to see their short video to show the adjustment procedure.
About Cableslaps:

Cableslaps were designed to deal with cord management with all the various cellphone, camera, iPod, and computer cables. While they are not perfect for every application, they are the simplest solution that we have come up with.