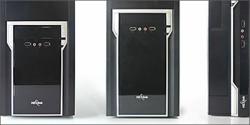 Syracuse, NY (PRWEB) August 14, 2012
Seneca, a leading manufacturer of innovative technology solutions, today announces an enhancement to their warranty with a new 5 year standard warranty option on Nexlink branded desktops.
We are excited to offer an industry leading warranty option to our Nexlink desktop kits, said Mark Porter, Desktop Product Manager at Seneca. Everyones budgets have been tightened, and being able to keep a desktop for an extra 2 years, while maintaining warranty coverage is a big plus. Having a solid warranty option takes the risk out of the desktop purchase and makes the overall investment more affordable.
All Nexlink desktops offer an exclusive PC Angel System Recovery Solution that provides multiple options to restore systems back to a working state in the event that it has encountered a problem. Combining a 5 year warranty on top of the PC Angel System Recovery Solution provides increased value for a complete desktop solution.
Nexlink Desktops with 5 Year Depot Warranty:
Nexlink 1125 Value Series: Optimal performance coupled with an impressive feature set for value-minded customers and basic computing tasks
Nexlink 3125 Mainstream Series: Mainstream solution offering enhanced performance and multitasking capabilities at a competitive price
Nexlink 5125 Professional Series: This series offers advanced media and graphic features with expanded business capabilities, for maximum productivity
Nexlink 7125 and Nexlink 7200 Performance Series: Engineered for the most demanding users, this series combines the latest technologies and high performance features
About Nexlink:

Seneca has been delivering innovative custom built computer solutions for over fifteen years. As the largest custom built brand in the US, Nexlink offers desktop, notebook, and server solutions for a wide range of markets to include business, government, education, and healthcare. Nexlink systems are designed to provide maximum performance and reliability while minimizing the total cost of ownership. Delivering only the best solutions, Nexlink products are Windows Hardware Quality Labs (WHQL) certified in our ISO 9001:2008 manufacturing facility.
About Seneca:

For over 30 years, Seneca has met the needs of customers in diverse industries with original and partnered technology solutions. As a leading U.S.-based Custom Computer Manufacturer, Seneca serves the evolving needs of our Business, Gov/Ed, Digital Security and Digital Signage, Digital Security and Surveillance, Digital Health and Digital Broadcast customers nationwide. By establishing the highest standards for our products, we forge long-term, mutually beneficial partnerships that deliver results. Seneca is best known for our rigorously tested Nexlink brand of custom-built desktops, servers, notebooks and storage devices. Our success is built on service and consistent performance at every stage of the extended technology lifecycle. For more information visit http://www.senecadata.com.
Seneca. Creating & Partnering Throughout the Technology Lifecycle.

# # #