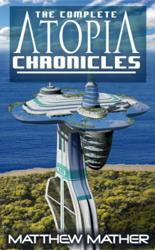 Montreal (PRWEB) October 10, 2012
Despite being self-published, Matthew Mather is a new top name in the Science Fiction arena with the release of Atopia Chronicles. This is the first in a series of still-to-be-released novels that explore our near future world (the year 2050) as it balances on the brink of eco-Armageddon, overzealous consumption, corporate greed, weather manipulation and virtual realities where synthetic consumption must replace material reality to allow humankinds excesses to continue.
The story and its frightening and alluring realism is born out of research and predictions that follow a seemingly inevitable path that society is following. It leaves no option but to find virtual satisfaction to sustain an expanding middle class constrained by diminishing resources and corporate corruption.
Im amazed at the feedback Ive been getting from readers around the world and I believe its because of how they relate to the story and its plausibility in the coming decades, says author Matthew Mather. This is really a book about human beings, about the nature of love and relationships, at the same time as being a techno-thriller that stands on a foundation of research and technology trends that we are already witnessing today.
Mathers professional and research background has helped him develop future scenarios, some of which are incorporated into Atopia Chronicles. Mathers accolades include winning the $ 2-million Best New Videogame contest, run by Telefilm in 2007, for the MindHabits game that was translated into a dozen languages and sold worldwide. Hes also a successful serial entrepreneur, founder of one of the worlds first multi-sensory interface companies, Immersion, that became the world leader in its field. He started his career at the McGill Center for Intelligent Machines.
Independent writing has soared in popularity over the last few years, with companies like Amazon, Sony, Apple and Kobo providing a medium for self-published authors to reach the main stage without the need to go through the arduous process of attracting literary agents in hopes of signing contracts with traditional publishing houses. Electronic books now outsell physical books by a margin of two to one.
Self-published writers like Amanda Hocking, B.V. Larson and Hugh Howey have all succeeded beyond the highest projections of publishing houses, with the 50 Shades of Grey series, the Star Force series and Wool. Often overlooked, independent writing has a long and illustrious history, including legendary writers like Edgar Allen Poe, Henry David Thoreau, Mark Twain, Beatrix Potter and Rudyard Kipling.
The Atopia Chronicles are an exploration of the meaning of love, life and the pursuit of happiness in a world teetering on the brink of eco-Armageddon. What could be worse than letting billions die? In the future, be careful what you wish for. Here's the link to the novel.
*About Matthew Mather

Matthew Mather started his career at the McGill Center for Intelligent Machines, founded one of the world's first tactile feedback companies, and won the $ 2M award for Best New Videogame from Telefilm in 2007. He's worked professionally in computational nanotechnology, weather prediction systems, genomics and cybersecurity. He lives in Montreal, Canada.
Find More Computer Press Releases
Tagged as: Atopia, Author, Chronicles, EcoArmageddon, Fiction, future, hits, List, Near, Science, SelfPublished, Seller, Thriller
Leave a comment
Pages
Categories
Blogroll
Archive
Meta