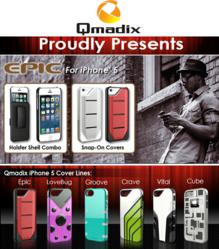 Panorama City, CA (PRWEB) October 09, 2012
Qmadix, known as a leader in tech gadgets and accessories, proudly announces the anticipated release of their Epic covers. This new line of protective and stylish covers serves to defend the iPhone 5 from accidental drops and scratches. Epic covers feature a rubberized ultra sleek durable frame that is complemented by contrasting color accents offering a truly sophisticated appearance.
We were inspired to create a cover with a minimal design for anybody that desires the convenience of a snap-on cover. We wanted to show the details of the design and differences in surface textures and finishes to make the Epic covers said Jimmy Kuan, from the Qmadix Development and Design team.
The single-piece cover sports three horizontal stripes that span across the center of the cover to add a stylish look and extra grip for the user. It is easy to appreciate all the finer details envisioned and implemented into the design of the Epic covers. Available in matte and glossy finishes on the sides that are complimented by brushed aluminum-like texture feel on the back makes this cover a true work of art that is still very protective.
For iPhone owners that do not like the feeling of a phone in their pocket, Qmadix also offers a Holster Shell Combo version of the Epic cover that comes equipped with a belt clip. The cover easily slides into the Holster that features a ratcheting swivel belt clip that doubles as a kick-stand. From the colors, design, and textures every aspect of the Epic covers are deliberately designed to protect your device in style.
Epic Covers are available now for $ 34.99 at http://www.qmadixonline.com. Color combinations include: Red/Black, White/Black, and Black/Black.
About Us:

Qmadix has a proven track record in developing and implementing effective accessory programs across all major channels, including Mobile Network Operators, Dealer Agents, Distributors and National Retailers. Our focus is to help our partners become more profitable by providing innovative products and backing them with value-added programs such as education, training, vendor managed inventory (VMI), private label branding and fulfillment services to enhance the support to our customers. We have built our business from the ground up and have continued to grow and evolve in the accessory industry.
Qmadixs team is dedicated leaders with over 20 years of success in the accessory industry. Their long-standing commitment to providing quality products and innovative solutions has always been the cornerstone of the Qmadix philosophy.
For more information about Qmadixs iPhone 5 Covers or any mobile accessories, please visit http://www.qmadix.com
Contact Us:

Qmadix

14350 Arminta Street

Panorama City, CA 91402

Phone: 818-988-4300

General: info(at)qmadix(dot)com

Media: media(at)qmadix(dot)com

Copyright