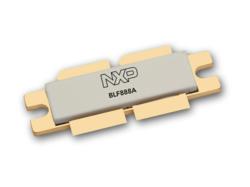 Eindhoven, Netherlands (PRWEB) October 31, 2012
Building on its leadership position in the digital broadcast market, NXP Semiconductors N.V. (NASDAQ: NXPI) today announced that it has developed the industrys first ultra-wideband solution for Doherty architectures. This patent-pending solution will uniquely enable manufacturers of digital transmitters to enjoy the high-efficiency gains that Doherty power amplifiers confer with greatly expanded bandwidth.
The pressure to deliver richer content is driving manufacturers of broadcast equipment to demand higher efficiency transmitters that utilize the maximum power available and are as cost-effective as possible. Doherty topologies offer 45-50% efficiency, representing at least 15% improvement over traditional UHF technologies that only reach 30% efficiency, and are proving to be increasingly popular. However, the principal challenge up until now has been how best to apply the narrow-band high efficiency benefits of Doherty amplifiers to a market that requires a solution that covers some 400 MHz of bandwidth.
Building on its expertise in Doherty base stations, NXP has developed an innovative solution to this challenge, creating a new Doherty architecture capable of operating over an ultra-wideband spectrum. In addition, it has achieved this innovation without an increase in the bill of materials. This high-efficiency solution uses NXPs leading edge 50 V LDMOS technology and supports the full UHF band without any compromise in power and cost. NXP is showing the technology at European Microwave Week 2012 in Amsterdam, and expects to be able to offer the solution to customers within the next 2-3 months. An overview of the demo is available here: http://www.youtube.com/watch?v=e18utnPNNG8
NXP has a very strong leadership position in Doherty architectures the company has an extensive Doherty IP portfolio and employs the worlds leading expert in this area. NXP helps its customers by providing flexible Doherty reference designs to fit specific customer timing and performance criteria (such as efficiency and bandwidth) in the UHF band.
We believe that the new ultra wideband variant of Doherty will have a major impact on the digital broadcast market, said Mark Murphy, director of marketing, RF power and base stations, NXP Semiconductors. Today's high-performance TV transmitters constitute serious investments, and so our customers need to implement higher efficiency solutions without incurring extra costs, and without delaying time to market. For this challenge to be met, the market needs suppliers who not only provide leading-edge products in areas such as Doherty power amplifiers, but can also offer expert application support to match. This is exactly where NXP fits in.
Links