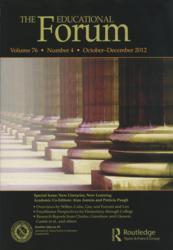 Indianapolis, IN (PRWEB) October 30, 2012
In choosing New Literacies, New Learning as the theme for The Educational Forum, a Kappa Delta Pi publication, Dr. Alan Amtzis, Academic Editor, invited Dr. Patricia Paugh to join him to learn the ways in which developments of technology and interactive digital media are augmenting, extending, and amending the traditional functioning of teaching, learning, and education. Dr. Amtzis is Director of the Master of Education Program in Educational Leadership: Instruction for The College of New Jersey. Dr. Paugh is an Associate Professor in the Curriculum and Instruction Department at the University of MassachusettsBoston.
The Educational Forum, vol 76, no. 4 (October-December 2012) explores how learning, and teaching, are changing as a result of the proliferation and availability of digital and computer-based technology. In 1436 Guttenbergs moveable type printing press ushered in the first tidal wave of what might be called New Literacy. Because learning has always been tied to the spoken or written word, memory and recall have been the proof of learning. However, memorization is being replaced by access and retrievability, which are changing the nature of application, depth, and utility.
Kappa Delta Pi is pleased to offer perspectives from senior scholars, essays from K-16 classroom teachers, and current research on New Literacies, New Learning through a themed issue of The Educational Forum, says Dr. Amtzis. Senior scholars Dr. Dana Wilber, Dr. Julie Coiro, Dr. James Paul Gee, Dr. Elena Forzani, and Dr. Donald J. Leu offered overviews of the emergence and future of new literacies. Classroom teachers from elementary school through college education courses submitted essays explaining the uses and effects of new literacies in their classrooms. Titles range from Digital Storytelling: Using Technology to Spark Creativity to Cell Phones Transform a Science Methods Course and from Finding a Voice: Freedom through Digital Literacies to Trust and Mobile Media Use in Schools. Research reports cover adolescent interactions with text across discourses, twitteracy as a new literacy practice, peer collaborations in online inquiry, Hip Hop as a new literacy, and concerns about the paths of new literacies. In her Closing Editorial Statement, Dr. Paugh states that new literacies, while emerging in a digital age, are more than technology; they are practices that lead to new social structures and new ways of being in the world.
The Educational Forum is a doubly masked peer-reviewed academic journal published quarterly to provide thought-provoking, challenging essays, research reports, and featured works designed to stimulate dialogue in education on a worldwide scale. To learn more about The Educational Forum, visit Kappa Delta Pi Publications. To purchase this issue or any of the articles from this issue, visit Taylor & Francis Online.
For more information about Kappa Delta Pi, visit http://www.KDP.org or call KDP Headquarters at 800-284-3167.
Kappa Delta Pi, International Honor Society in Education, is a 501 (c) (3) organization established in 1911 to recognize and promote excellence in education, provide a reasoned voice for significant issues, and link learning communities of educators. Through its programs, services, and strategic partnerships, KDP supports the professional growth and teaching practices of educators throughout all phases and levels of their careers. The organization currently has more than 600 chapters and an active membership of 43,000 worldwide.
Related Computer Press Releases