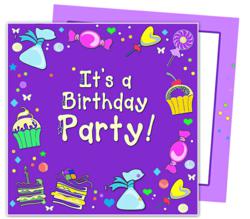 San Francisco, CA (PRWEB) October 24, 2012
Templates for creating birthday invites has never been easier. Anyone who is planning to throw a birthday celebration whether it is for a baby or someone who is turning 90, can benefit from creating cost effective, printable invitations.
The Celebrations of Life Store has now launched birthday invitation templates which are downloadable to any MAC or Windows computer. These template files are available for use with Microsoft Word, Publisher, OpenOffice, or Apple iWork Pages.
Customers view a large selection of background designs and select the software application desired. Upon purchase, the preformatted and predesigned template file will be downloaded directly to the buyers computer.
Because the foundation of the design is completed and formatted, the customer will only need to change the filler text information and customize the invitation or program. This process only takes a few minutes before the invitation is complete and ready for printing. There are a more options in the printing process for the customer who chooses to create invitations. Printing on demand is a great cost and time saving benefit especially since every household today owns a color printer.
The Celebrations of Life Store also provides professional printing services in which the customer can send the completed template file for printing with a choice of various finishes.
Our birthday invitation template category has something for every age being celebrated! You can find designs age appropriate for anyone! We are proud to be able to offer them in the most popular page layouts compatible with software most people already have installed on their computer, shares Carole Galassi, CEO and founder.
New designs are being added everyday since we have quite a few designs that we still need to upload to our website., reports Lisa, a customer care specialist.
Customers will be pleased to find popular sizing for the invitations in horizontal, vertical, and square presentations. There are many different themes available such as for kids, quinceaneras, sweet 16, bar mitvahs, and more. Envelopes are purchased separately and can be found on the companys website.
Full customer support is provided by the company for every purchase and appears to be available 7 days a week via phone, email and livechat. To view the extensive line of birthday invitations and other templates for every occasion, visit the website at CelebrationsOfLifeStore.com.
Related Computer Press Releases