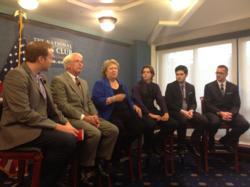 West Chester, PA (PRWEB) August 31, 2012
Scorned and mistreated most of her life, Anne Okelo understands the depths of despair. But Anne also understands and has embraced the power of forgiveness. Today she is back in her homeland in Kenya serving those who mistreated her. And her example as a leader and change agent is impacting a whole generation of young women and girls that have never before known anything but a life of abuse and heartache.
The culmination of her journey thus far was Thursday evening August 29, 2012 when The National Press Club in Washington, DC premiered the film "Well of Dreams," in the First Amendment room. How fitting that Ms. Okelo's story be told in a place where world leaders and historic figures have walked before her as symbols of what can be accomplished through determination.
The film screening was followed by a moderated panel discussion with the team from Speaker Films. Anthony Shop from The National Press Club served as moderator.
Well of Dreams is Speaker Films' maiden voyage into feature documentary productions. Founded in 2010, Speaker Films plans to produce social issue documentaries that can make a difference in people's lives.
Speerheading the production team is Cindy Speaker, founder of Speaker Films and the film's co-director and producer. Cindy has been involved in video production since 1986. She has a Master's degree in TV/Film from Regent University.
Jay Kunkel is a senior producer. He is also Speaker Films' creative director and is responsible for all graphic design elements both in the film and in the collateral and branding pieces of Well of Dreams.
Co-director, cinematographer, writer, and editor Chris Mercury is a graduate of Drexel University where he obtained a Bachelor's of Science degree in Film and Video. Chris has also been involved in the Philadelphia film community since 2006.
Dan Frantz is an up and coming filmmaker who has already won several film festival awards for his independent films. He was named a 2012 US Presidential Scholar in the Arts and was honored by President Barack Obama at a Medallion Ceremony.
Well of Dreams is a story of courage, determination, and ultimately, triumph. Imagine a male-dominated world where the mere act of fetching water for your village can have dangerous, even lethal consequences. This is the world in which Anne Okelo lived, in the small village of Angiro in Kenya. But Anne has big dreams and is determined to save the village girls by freeing them from the bondage of traditional societal restrictions. Well of Dreams is a story of hope, when the clarity of one's vision and the unshakable faith of one's heart come together.
Shot in high definition on location in Africa and the US, "Well of Dreams" is a feature length documentary film. The film score is from James Lavino, composer of two Oscar nominated documentaries in the last few years. Rebecca Sensenig wrote and performed an original song for the film entitled "Beautiful Water."