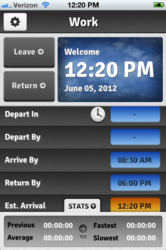 Greenville, SC (PRWEB) August 31, 2012
With the latest release of the commute iPhone app, Daily Commute, users now have new features and functionality to assist them in their travels. One key feature in this update is a new Tips feed. This feed is regularly updated with commute related tips and tricks from the original creators of the app.
Providing users with helpful information, co-creator Dr. Benton Cofer posted, Few situations invoke panic and anxiety quite so quickly as oversleeping! I was reminded of this just this morning. A minor malfunction in my snooze function resulted in my over sleeping by about 30 minutes. What a way to start the day! What to do? After springing from my bed, I immediately opened Daily Commute on my iPhone, and pulled up my countdown timer. To my immediate relief, I found that I had ~ 50 minutes before I needed to leave the house. Whew! No problem.
Giving commuters the tools and tips needed to be more productive, the user gets more out of life. The average American spends 25 minutes on their daily commute to work (one way), and there is an epidemic of stress related illness. If you are commuting, you are not spending quality time with your loved ones. You are not exercising, doing challenging work, having sex, petting your dog, or playing with your kids (or your Wii). You are not doing any of the things that make human beings happy. Instead, you are getting nauseous on a bus, jostled on a train, or cut off in traffic, says Annie Lowrey writing in Slate.com.
The commute iPhone app, Daily Commute has an easy to use interface allowing the technology to work for you. The app starts by prompting the user to input a name for the commute destination and desired arrival time. The user then starts the app upon leaving for work and stops it upon arrival. The app logs this data and the following day, uses this travel time to calculate a target time to leave for work. The touch of a button will bring up a full screen countdown timer. The background of the timer changes from green to orange and then from orange to red as the target time approaches.The user then repeats the process daily. As the app compiles data, it will then average this data to give a more accurate prediction. The app bases the user's predicted commute time on the best available data, so the more it is used the more accurate it becomes.The end result is a more consistent arrival time at work.
The commute iPhone app, Daily Commute also allows the user to input notes for each individual commute for later review. Trends in commute time can be analyzed in graphical readout as well as in tabulated form. Never before has the average commuter had the ability to easily generate usable data regarding commute time. Never before has there been an app that will use such data to make commuting more predictable and less stressful.
The app is currently available to download from the apple app store. The free version contains ads and limits the number of unique commute destinations to one. The commute iPhone app, Daily Commute may be upgraded by the user to the Pro version for 99 cents. The Pro version of the Commute eliminates ads and allows unlimited entry of unique commute destinations.
About ValleyRocket.com
Valley Rocket was founded in 2011 as a tech startup in Greenville, SC. The companys focus is on mobile application development for the iPhone, iPad and Android Platforms. ValleyRocket.com provides a custom app idea portal for individuals or businesses to submit ideas they have dreamed up.
Other applications in the portfolio consists of:
Alpha Calc iPhone / iPad App - The Alpha Calc iPhone and iPad Calculator App offers a new user interface for calculators that have been around for decades.
Bob Levy Radio iPhone / Android App - The Bob Levy Radio App provides access to a beautifully designed interface featuring The After Breakfast Show audio feed, links, stories and comments being discussed on air.