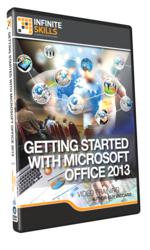 (PRWEB) October 20, 2012
Software training firm InfiniteSkills Inc. this week released "Getting Started with Microsoft Office 2013," an introductory tutorial designed as a quick update to the latest features and upgraded tools of Microsoft's latest version of its staple productivity suite of applications.
Office 2013 is the first update to the productivity suite since Office 2010. In addition to extended file support and numerous user interface updates, the new version offers increased integration with the Skycloud "cloud-based" database, important social media integration, as well as improved interaction between the various programs within the suite.
InfiniteSkills' "Getting Started With Microsoft Office 2013 Tutorial DVD - Video" covers all these important changes, placing all the power of the new version's features at the user's fingertips in a matter of hours.
Getting Started With Microsoft Office 2013 Video Training
Students will learn how key applications like Word, Excel, and Powerpoint, interact with Skydrive and Office365. Users will also get familiar with enhanced functionality within applications including the Flash Fill and new chart recommendations features of Excel, and threaded comments and PDF compatibility in Word.
Course author Guy Vaccaro is a certified professional in the Microsoft Office Suite. He has more than 15 years experience in various training capacities, including classroom and computer-based training, as well as manual writing. Additionally, Vaccaro has professional experience in database design, Crystal Reports, and SQL Server.
"If there's one thing that stands out about Microsoft Office 2013, it is without a doubt the cloud," Vacarro says. "The entire suite interacts with data held in the cloud and there is also data within each application that needs to be saved in the cloud. We'll cover all the key tools so you can start using this feature securely and effectively."
In addition to interacting with Skydrive and Office 365, "Getting Started With Microsoft Office 2013 Video Training - DVD" covers the integration with social media as well. Now in Microsoft Office, Powerpoint presentations, Word documents, Excel spreadsheets, have increased web sharing capability. Bloggers, for instance, can post blog entries as well as Facebook and Twitter updates, directly from a Word document.
Other important topics include using enhanced tools in Publisher 2013, increased compatibility with Hotmail and Livemail accounts in Outlook 2013, and the new interface and enhanced features of Powerpoint 2013.
http://www.infiniteskills.com/training/getting-started-with-microsoft-office-2013.html
InfiniteSkills offers its Getting Started With Microsoft Office 2013 Tutorial DVD - Video either as a DVD or a direct download from the company website at a retail price of $ 99.95. All InfiniteSkills titles and formats are compatible with Mac and Windows operating systems, and shipping is available around the globe. Additionally, InfiniteSkills tutorials are supported by project files which correspond to examples in the videos, allowing users to work alongside their instructors right on their computer or iPad.
About InfiniteSkills Inc.

A leader in the field of software training, InfiniteSkills strives to offer the highest quality training available at an affordable cost. InfiniteSkills tutorials are task-oriented instructional videos, teaching complex skills by providing hands-on examples and guiding users as they carry out critical objectives. InfiniteSkills offers a comprehensive range of software titles available as DVDs, digital downloads, as well as iPad editionskeeping with company aim of delivering professional training to customers anywhere they want to learn.