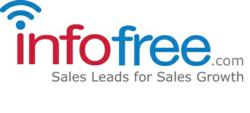 San Mateo, CA (PRWEB) September 20, 2012
infofree.com, the leading provider of unlimited sales leads, mailing lists, and business credit profiles for the flat price of only $ 49.95 per month, has just unveiled a new educational video on its homepage that shows businesses how to use infofree sales leads to find new customers and grow their sales.
This video has launched just a week after infofree.coms new homepage, which customers are praising as being clean, informative, and easy to use. In the three-minute video, users can watch as three searches are run on the infofree.com website. This is helpful for prospects who want to see what the service is all about, and also for current customers to start their subscriptions off right. Customers who have watched the video are raving that it makes using the site simple, even for those who are not as tech-savvy.
The refreshed homepage and educational video are only two of the many updates that infofree.com is making to its website and its service. A new blog with helpful sales and marketing tips, press releases, and product announcements is updated daily on the website. Also in the works is a customer contact manager and advanced mapping features, to be released in the next few months.
infofree.com is continuing to help our customers get more sales in this economy at the lowest price in the industry, says Vin Gupta, infofree.com Founder, Why pay 10 cents or more for sales leads, when they are unlimited from infofree.com for one low monthly price?
To try infofree, visit http://www.infofree.com or call 877-448-0101 for more information.
About infofree.com

For $ 49.95 per month, the service provides unlimited search and download of sales leads and mailing lists, as well as the unlimited view and print of business credit profiles and email lists of 12 million businesses, 200 million consumers and homeowners, and hundreds of other unique databases. Reach new homeowners, new movers, newlyweds, recently divorced consumers, and new businesses with real time downloading and unlimited search.
The infofree.com content is compatible with the following platforms: Oracle CRM, Salesforce CRM, Microsoft CRM, Nutshell CRM, Goldmine CRM, Sage ACT! CRM, Highrise CRM, Zoho CRM, NetSuite CRM, SAP CRM, Constant Contact, RightNow Technologies, Responsys, Vertical Response, and Dun & Bradstreet.
Find More Tech Press Releases