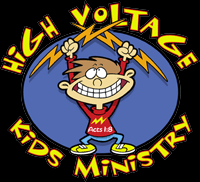 North Little Rock, AR (PRWEB) September 28, 2012
High Voltage Kids Ministry is known throughout the world as a leading resource provider for churches. This week, they launched a completely redesigned website at http://www.highvoltage-kids.com.
What sets High Voltage Kids Ministry apart is the fact that they are NOT a "curriculum company". THey are REAL LIFE Kids Pastors in a local church who create and produce our own videos, object lessons, graphics, illustrations, skits, and more - then they package and release what they use every Sunday just for their customers. Whatever products you purchase have been tested and proven to be 100% effective!
Their KIDS CHURCH CURRICULUM is "Media Rich - Teacher Driven"! The curriculum includes all the high-tech video, graphics, music, and other media elements that kids love WITHOUT replacing the Kids Pastor/Leader with a DVD player and a screen. They believe that the media elements should ENHANCE your ministry, not REPLACE it. That's why over 5,000 churches world-wide have chosen High Voltage Kids Ministry Resources.
HVKM materials are "low-prep" and "low-hassle"! This is they have Kids Ministry Leaders from every denomination and every size church as their happy and loyal customers!
Find More Tech Press Releases