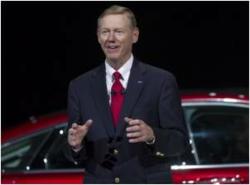 (PRWEB UK) 14 September 2012
The Ford boss was speaking at the company's Go Further event in Amsterdam, which was attended by thousands of dealers and journalists and streamed online to an international audience.
Mulally explained how the implementation of the One Ford programme would be accelerated, with more global as opposed to Europe-specific Fords being sold to business users in Ford dealerships in future.
The proportion is expected to increase from 43 per cent to 71 per cent of sales over five years as the company floods its showrooms with dozens of new models. As Ford's European boss Stephen Odell put it, Ford was moving from being a European brand to a global brand in Europe.
New technology for everyone One of Ford's big themes is the democratisation of technology and this featured prominently at Amsterdam too.
Mulally's top team highlighted innovations such as: