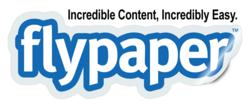 Cincinnati, OH (PRWEB) August 14, 2012
Flypaper Studio, Inc. partners with JBtec Digital Signage to add Flypaper software to the digital signage tools and solutions provided by JBtec. With this new partnership, JBtec becomes the first South American organization to offer Flypaper, the powerful and easy-to-use platform that enables users to create Flash and motion graphics for digital signage.
The Flypaper platform is specifically designed to simplify and accelerate content creation for all types of digital signage, at a fraction of the time and cost, said Bruno Gianzanti, Founder and CEO of JBtec. Our customers will benefit from the robust capabilities of Flypaper to quickly and easily create high-quality digital signage.
Flypaper empowers users to generate unique Flash content and motion graphics with no special programming skills needed. Users can choose from hundreds of pre-existing templates and Flash animation components to build high-quality digital signage content quickly, or create their own from scratch.
This partnership provides customers with a powerful and flexible tool to create impactful and effective content for their digital signage programs, said Don Pierson, Founder and President of Flypaper Studio, Inc. Users in Brazil and beyond can now harness the power of Flypaper for digital signage success.
By offering Flypaper, JBtec connects South American customers to a powerful and well-rounded content creation software for digital signage programs. JBtec is a distributor and specialized integrator in digital signage solutions designing, deploying and managing digital signage networks in Brazil and internationally since 2000.
For more information about Flypaper, please visit: http://www.Flypaper.com
About Flypaper Studio, Inc. and Trivantis Corporation

Flypaper Studio, Inc. is a wholly-owned subsidiary of Trivantis Corporation. Flypaper produces the leading content creation platform that empowers programmers and non-programmers alike to create, edit, share, track and reuse high-impact interactive and motion graphics video content. The Flypaper platform allows anyone to edit and manipulate components without touching programming code. Trivantis also produces Lectora