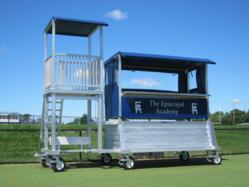 Royersford, PA (PRWEB) September 12, 2012
AAE (Aluminum Athletic Equipment Co.), a leading U.S. manufacturer of sports equipment, recently discovered through personal interviews and limited market research that customers have a multitude of ways in which their portable press boxes, branded as Donkeys, can serve their sports teams.
While Donkeys mainly function as elevated scorers tables, research revealed even more creative ways that customers are using the units. Actual Donkey owners have continued to expand upon the multi-purpose label assigned to this product. Many have disclosed that they sometimes sell food, drinks and even tickets right out of it down on the sidelines. A couple of schools that host regional track meets say the Donkey is ideal as a check-in station because of its visible presence within a crowd of athletes and coaches. And one Donkey owner proudly announced that his school uses it as an athletics fundraiser by auctioning off VIP seats. What parent doesnt want to have a perfect, close-up view of the whole field during their kids game?
These alternative uses for the Donkey product line have even laid the groundwork for their latest advertising campaign with a Fall 2012 launch, the company has high hopes for its success. The list of owners already boasts some leading athletic programs, including: University of Pennsylvania, Georgetown University, Duke University, U.S. Naval Academy, James Madison University, Skidmore College, University of Florida, St. Josephs University, University of Michigan, Tennessee Tech University, St. Louis University, University of Maryland, University of Louisville, Cornell University, Glenbard West H.S., Episcopal Academy and many more.
Originally, the portable Donkeys were considered multi-purpose because they: 1) can be used for multiple sports, 2) serve a storage function, 3) offer a built-in penalty bench, 4) feature elevation for better viewing and broadcasting, and 5) protect occupants from the weather. Donkeys come in four different base models and two packages that include an attached Birds Nest Video Tower. Donkeys can be purchased in a variety of configurations, including: with or without storage, with or without canopies, custom banners with your teams logo, contoured seating, penalty benches, seat cushions, and even tinted plexi-glass paneling.
AAE has prided itself on this type of innovation since inventing and patenting the aluminum rocker hurdle in 1950 for the track marketplace. Over the decades, AAE has introduced a multitude of new products for use by coaches and athletes worldwide. With the use of advanced technology and design innovations, the firm makes over 500 items, including: track hurdles; track starting blocks; discus cages; hammer cages; shot cages; pole vault pits; high jump pits; long jump pits; permanent football goalposts, portable football goal posts, rotating or hinged football goal posts; semi-permanent or portable soccer goals; field hockey goals; lacrosse goals; baseball batting cages; baseball foul poles; ball stopper protective sports netting; portable press boxes; team benches; portable bleachers and Kronum goals. AAE develops, fabricates and assembles most products at its Royersford headquarters and manufacturing location near Philadelphia. For more product information call 800-523-5471 or visit myAAEworld.com.
More Tech Press Releases