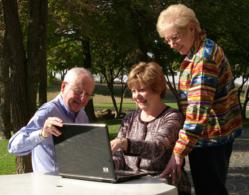 Plano, TX (PRWEB) October 24, 2012
Computer School for Boomers & Seniors is a virtual campus that offers the largest selection of online computer Lesson Plans created specifically for Boomers and Seniors. With today's news, online learning for older adults just became easier, friendlier and more affordable.
It was announced today that students may enroll in the new Partner Program and at the same time enroll another persona friend...a spousea sona daughter or a tech savvy grandkid for Free.
We want to help our students become computer savvy, said Mimi Witcher, Co-Founder of Computer School for Boomers & Seniors. If you are new to the computer or even if you are a computer veteran, its always nice to have a friend or loved one share your learning experience.
The former Teacher of the Year at Richland College in Dallas, TX went on to say, That is why classroom learning is such a rewarding adventure. I know. I taught in the classroom for eight years. We cant take the classroom environment to them, but we can do the next best thing provide a learning buddy.
Many senior students are taking advantage of this opportunity to enlist the advice and encouragement of one of their grandchildren. I may not know that much about computers, said 82 year old Grandmother Mary Lou Thomas, but I have a granddaughter who is a whiz with her laptop and smartphone. She got me on Facebook and now, she can help me explore the world.
Tech savvy Boomer Stephanie Wilkins has a different take on the Partner Program. I can share the annual enrollment cost with one of my associates or even my daughter and we both gain a valuable online education for about 10 cents a day. They dont check IDs? Do they?
When asked that question, Mimi Witcher smiled and replied, No, we dont check IDs. Our objective in introducing the Partner Program is to help our students team up and learn with a spouse, a close friend or relative regardless of age in order to enrich their lives. Exploring the world together via a computer and the Internet is a fun thing to do.
To learn more about the Free Partner Program, tour the campus at http://www.cs4seniors.com