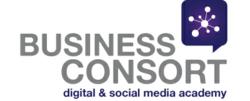 (PRWEB UK) 16 October 2012
Business Consort - The Digital and Social Media Marketing Academy are helping businesses adapt their digital marketing strategies in a post PC era.
The innovative training company and marketing agency has launched fast track, online training courses to help businesses realise how mobile marketing can be quickly implemented into their business.
They have written a 21 page digital and social media guide which can be downloaded - free of charge from their website too.
By 2013, more people will use mobile phones than PCs to get online and the number of networked devices in 2015 will be twice that of the population.
50% of all Internet use is via a mobile device.
In mid-2011, we also reached the point at which consumers were spending more time on their mobile devices than on their PCs.
According to a recent survey from Compuware, 40% of users have turned to a competitors site after a bad mobile experience.
The biggest frustrations when mobile browsing are;
1.