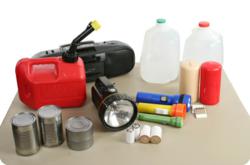 Lincoln, RI (PRWEB) October 26, 2012
Hurricane Sandy is heading north and is expected to impact the Atlantic Coast within the next few days. Its exact track is uncertain, but Amica Insurance urges those along the coast to closely monitor the storm and take steps now to protect themselves, their families and their property.
Even if the hurricane doesnt make landfall, it still can create hazardous conditions due to high winds and heavy rains, said Lisa St. Onge, an assistant vice president with Amica Insurance. Thats why its important to track the path of the storm and head all advisories and warnings.
When tracking the storm, here are a few helpful reminders:


A hurricane watch means a hurricane is possible within the next 36 hours. When a watch is issued, it's time to stock up on supplies and make preparations for your home and family.
A hurricane warning means a hurricane is expected within the next 24 hours. Heed weather alerts and emergency advisories and evacuate immediately if told to do so.
If a hurricane watch has been issued for your area, stock up on emergency supplies, including bottled water and non-perishable food, St. Onge said. Develop an evacuation plan, if you dont have one, and create a list of emergency numbers, including family members and friends to call after the storm.
Its also important to secure your home and yard as much as possible, St. Onge said.
Bring lawn furniture, ornaments and toys inside.
Secure roofs, windows, doors, garage doors and other areas susceptible to wind damage.
Trim dead or hanging tree branches, if you have time.
If your area is under a hurricane warning, take immediate action to protect yourself and your family, St. Onge said. If ordered to evacuate, do so immediately. If youre not ordered to evacuate, be prepared for power outages, downed tree limbs and other storm-related damage. Do not go outside unless authorities say it is safe to do so.
Here are some other tips, from federal and state emergency agencies:
Fill sinks, tubs and other clean containers with water for drinking and hygiene.
Charge your cell phone and have access to a non-cordless phone.
Fill your car with gas.
Gather and secure important papers.
Make sure you have cash on hand.
Protect family valuables, especially photographs and computer files.
Dont forget your pets. Make sure you have plenty of food and water for them.
This storm, as with any hurricane, poses a serious threat to anyone in its path, St. Onge said. We urge you to take every precaution, especially when it comes to protecting yourself and your family.
Find additional tips and information on the Amica Storm Center on Amica.com.
About Amica Mutual Insurance
Amica Mutual Insurance Company, the nation's oldest mutual insurer of automobiles, was founded in 1907. The company, with corporate headquarters in Lincoln, RI, is a national writer of automobile, homeowners, marine and personal umbrella liability insurance. Life coverage is available through Amica Life Insurance Company, a wholly owned subsidiary. Amica employs more than 3,100 people in 40 offices across the country.
CONTACT: Vince Burks, Corporate Communications, 50 Amica Way, Lincoln, RI 02865-1155, 800-652-6422, ext. 24563
Twitter: Amica
Facebook: Amica Mutual Insurance Co.