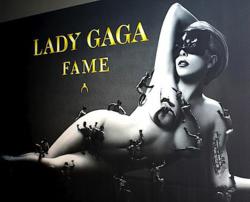 New York, New York (PRWEB) September 18, 2012
Attention, Little Monsters! BeautyStat.com -- the leading online beauty community for skincare reviews and makeup reviews -- was able to attend Lady Gagas Fame Black Fluid Fragrance commercial ad event on Thursday, September 13th at the Guggenheim Museum in New York City. Guests were urged to follow the black tie formal event dress code, decked out in masquerade attire including black masks, crowns, tiaras and over-the-top hats. A giant bottle of the Fame perfume was the focal point of the event, with the promise of Gaga herself performing Sleeping With Gaga. Guests were shocked to find Gaga sleeping encased in her over-sized fragrance bottle -- with guests being able to touch her hand through a small hole.
The premiere of the Fame fragrance commercial ad was shown at the event, celebrating the ingenuity of Haus Laboratories and their inventing the first black liquid perfume, as requested by Lady Gaga. Its black like the soul of fame, but invisible once airborne. The scent is strong and sensual with dark facets of incense and belladonna; sensual overlays of apricot and honey along with feminine notes consisting of jasmine samac and tiger orchidea. Now every Little Monster has a chance to let their sensual side out with just a few spritz of this tantalizing yet provocative fragrance. Surely a fragrance to behold! That is why BeautyStat is excited to give away one bottle of Lady Gagas perfume to one lucky reader! All readers have to do is comment on the article recapping the fragrance launch event, letting the BeautyStat Community know why this fragrance would best match their Little Monster persona for a chance to win. So get commenting!
BeautyStat.com (a NYC tech startup) is an online beauty community -- consisting of beauty product reviews -- and social marketing agency for the beauty industry. It has been featured in Womens Wear Daily, New York Times, Forbes Magazine, NBC and CBS News. The strength of BeautyStat.com is its captive, engaged and influential 100,000+ community, 190+ blogger network and 40 million social network reach. BeautyStat.com works with beauty brands, retailers and PR agencies to connect them to the BeautyStat community for online PR events, advertising and rich consumer insights.
BeautyStat.com was founded by beauty entrepreneur Ron Robinson. Ron is a veteran cosmetic chemist who has worked for such leading beauty companies as The Est