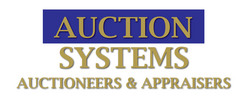 Phoenix, AZ (PRWEB) October 19, 2012
Auction Systems Auctioneers & Appraisers, Inc., will host a Phoenix marathon auction featuring agency stolen and confiscated property, jewelry, tools, city surplus, school district supplies and equipment, electronics, appliances, computers, commercial equipment, restaurant equipment, sporting goods, household items, furniture, sports and entertainment memorabilia, and much more on Saturday, October 20, 2012.
Items of interest for this Phoenix marathon auction include: 2007 Chevy Avalanche, 2004 Dodge Ram, 2004 Chevy Trailblazer, Wayne Gretzky signed jersey, Xbox 360, Silent Scope 2 arcade game, JVC flat screen TV, Samsung flat screen TV, Toshiba flat screen TV, Ray-Ban sunglasses, Oakley sunglasses, Hobart meat slicer, Specialized mountain bike, Canon Powershot camera, Nikon CoolPix camera, plus much more.
Many people who attend live auctions or participate online for the first time tend to get the auction bug, said Deb Weidenhamer, CEO of Auction Systems Auctioneers & Appraisers Inc. Its hard not to get caught up in the excitement of bidding and winning great deals. Like most of our Marathon auctions, this event offers a wide range of items from cars to cameras.
The marathon auction will be held on Saturday, October 20, 2012 at 9:00 a.m. at Auction Systems located at 951 W. Watkins in Phoenix, AZ. All of the items listed in the auction may be previewed and inspected by interested bidders on Thursday, October 18, 2012 from 4:00 p.m. to 6:00 p.m., Friday, October 19, 2012 from 10:00 a.m. to 2:00 p.m., and Saturday, October 20, 2012 from 8:00 a.m. to 9:00 a.m. one hour prior to auction.
Items will also be available for preview and online bidding beginning Saturday, October 13, 2012. Interested parties can visit Auction Systems Phoenix auction schedule, to preview and sign up for online bidding.
About Auction Systems Auctioneers & Appraisers, Inc.

Auction Systems Auctioneers & Appraisers, Inc. is the Southwest's most active auction and appraisal company. Auction Systems features live and live simulcast auctions and appraisals of stolen and confiscated Police and personal product including cars, tools, electronics, jewelry, sporting, coins and surplus, as well as auctions of commercial and heavy equipment, real estate, antiques, guns, estate and business liquidation and bankruptcy.
Based in Phoenix, Arizona and an INC. 500 company, Auction Systems is one of the fastest growing privately held companies within the United States. Additionally, Auction Systems is an ICIC INC. 100 company and is ranked as the #1 fastest growing woman-owned business and the fifteenth fastest growing business overall within the inner cities of the United States.
Auction Systems Auctioneers & Appraisers, Inc. can be found on the web at http://auctionANDappraise.com.
###